Chatham Business Owner, SBA's Small Business Person of the Year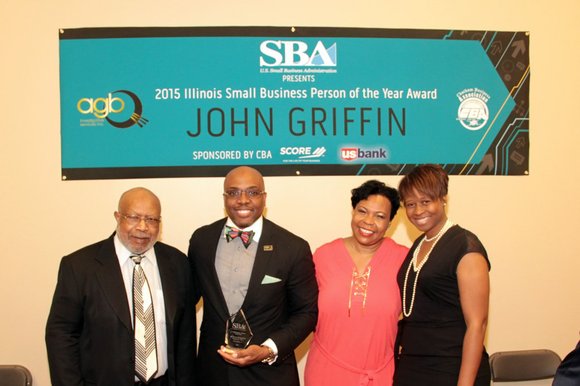 Surrounded by family, friends and fellow Chatham Business Association (CBA) members, John Griffin, Jr., 46, president/CEO of AGB Investigative Services, Inc. (AGB) was all smiles last Thursday morning as Illinois District Small Business Administration (SBA) Director, Robert Steiner, presented him with the 2015 Illinois Small Business Person of the Year Award.
Griffin and his team won the award for their commitment to customer service, employee empowerment and community involvement.
Through SBA's Business Development Program, AGB found new customers and demonstrated the firm's value to federal agencies while serving existing clients.
"My dream is to provide a spiritual and a wealth legacy because historically, blacks do not leave wealth for their children," said Griffin Jr., who thanked Chicago Citizen Newspaper CEO, William Garth, Sr., for being a great example for him and for others. "AGB is not just a, business, it's also a ministry," he added.
Griffin Jr. also thanked his father, John Griffin Sr., and mother Lula Ethridge, Denitra Griffin, his wife of 25 years and acknowledged his four children John, III, 23; Nia, 20; Jajia, 15; Jibril, 13. He also thanked CBA Executive Director, Melinda Kelly, banking industry representatives, elected officials including Ill. Gov. Bruce Rauner and Chicago Mayor Rahm Emanuel, who sent congratulatory letters and others who showed up for his big day.
In his letter, Rauner said, "AGB is committed to customer service, employee empowerment and community involvement…This award is a result of your efforts to provide quality and innovative security solutions to your clients and participating in the uplilft of your community…"
Every year since 1963, SBA highlights the impact of outstanding entrepreneurs, small business owners and others from across the nation through National Small Business Week. Each year, the Illinois District Office and its partners, (with nominations from community members), honor small businesses for their contributions to Illinois' economy and to society.
"Our highest honor is our Small Business Person of the Year," said..
"They show how small businesses turn into big businesses and that doing well and doing good things in the community, are a way of life. This year's Small Business Person of the Year, is John Griffin. John's story sets him apart as it spoke of the American dream."
The only African American-owned security business with International Organization for Standardization (ISO) certification (which promotes global standardization for specifications and requirements for materials, products, procedures, formats, information and quality management), AGB is described as a pre-eminent, minority-owned leader in the physical and virtual security fields and offers a full spectrum of customized security solutions to both small business owners and large scale corporations and government entities.
Griffin Jr. grew up in Englewood and holds a Masters of Public Administration from Roosevelt University and a B.S. in Commerce from DePaul University.
"It can be tough for African American businesses but I make no excuses and just continue to knock on doors. My advice to others starting out in business is to become bankable and remain bankable."
A nationally-trained, full-spectrum security and computer expert, Griffin, Jr. founded AGB, 2033 West 95th St. in Chicago, in April 2003 and the company has since gone from two employees to 200 over a 12-year period.
Trained by the Department of Defense, Department of Homeland Security, and the U.S. Secret Service in computer forensics, Griffin Jr. is a certified Forensic Expert Witness and continues to collaborate with local, state and federal law enforcement agencies.
"Businesses like yours can change the paradigm of what African American businesses are," said Kelly. CBA would not be what it is without the support of the people we have here today. We have several community programs. John hired about 10 of those people from our zip code and made them self-sufficient. Doing business in the African American community is not a social issue, it's just good business."
Congressman Bobby Rush (Dist.-1) was on hand for the event and thanked Garth, calling him a "Godfather" before addressing Griffin Jr.
"Your views of business as a ministry is inspiring and provocative because it sets a high standard," Rush said to Griffin, Jr. "It's the essence of what business is all about. Your always giving back, tells me you're going to get a lot because you give a lot."
For more information about AGB, please visit the website at agbinvestigative.com.