Chicago Bears First Round Picks Plans to Produce on the Field and in the Community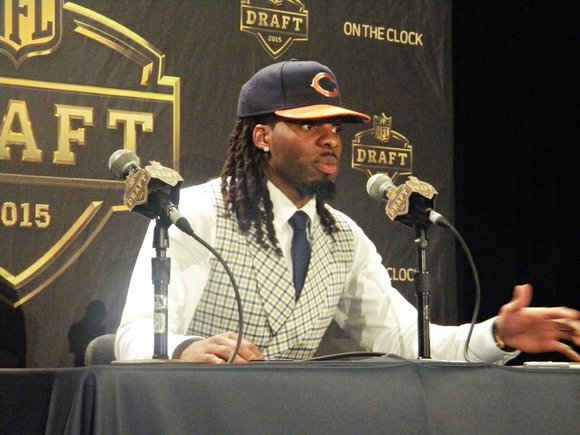 At the 2015 National Football League (NFL) Draft, the Chicago Bears chose West Virginia University (WVU) wide receiver, Kevin White, as their first pick. The Bears were seventh in line in terms of the 32 NFL teaming choosing new players during the draft.
White stands at 6"3', is 215 lbs. and is projected to be a key contributor to the Bears offense, after recording 109 catches for 1,447 yards and 10 touchdowns during his senior year at WVU.
White gave a stellar performance at the NFL scouting combine, a pre-draft event where draft eligible players' physical attributes and skills are assessed and displayed a rare combination of size, speed, strength and big-play ability that snagged the attention of Bears scouts.

"This guy is a special athlete and for his size, he's big and he runs 4.3 (seconds in a 40 yd. dash), and he's strong after the catch, and he's a physical blocker, he really checks all the boxes we are looking for in a receiver in our offense," said Ryan Pace, Chicago Bears General Manager.
Now the question is, will this decision prove to be a smart one not only for the team's success but also in appeasing fans who are undoubtedly still disgruntled over the Bear's dismal past season.

White was hardly a household name prior to his breakout performance last season. He began his collegiate football career at Lackawanna College, Scranton, Pa., as an unheralded prospect for two seasons before given the opportunity to play for WVU.

But White is adamant that he will not let the trappings of the NFL's fame and fortune change him and that he will remain "humble" and "the same guy" as he was before the draft.

White participated in a pre-draft youth football clinic, NFL PLAY 60, the NFL's nationwide campaign encouraging youth to be active for 60 minutes a day in order to help reverse the trend of childhood obesity, alongside Chicago Mayor Rahm Emanuel, NFL Commissioner Roger Gooddell, and fellow prospective NFL players.
"I wish I had this as a kid, having NFL players and the [NFL] commissioner play around with you and give you advice," said White. "It's a great feeling giving back to the community, I know if I was those kids it would make my year, something that I would never forget, so to be a part of that is amazing."
White is cognizant of his duties as a role model to the youth and offered timely advice on avoiding pitfalls on the road to success.

"For those kids, I would tell them always chase your dreams," said White. "Don't ever let anyone tell you that you can't do something because if that was the case, then I wouldn't be here right now. Work hard; don't follow guys that do the wrong things. The cool guys that are out there, whether it's smoking, drinking, partying, they're going to do the same thing 10 years later, so I would tell them just to stay focused and work hard."
White engaged in several community service projects, specifically in construction, while at WVU which gave him an appreciation for giving back to those in need.

"Whether I go to hospitals, schools, just go chill at the playground with the kids, whatever I have to do to inspire someone, if I can inspire one person, I think I did my job," said White. "I know what it's like to be a kid that no one is giving him a shot, no one is giving him a chance, so I would tell him to keep working and stay dedicated."
The NFL Draft is an annual three day televised event where all 32 NFL teams select newly eligible football players for their teams. A total of 200,000 people visited the draft held in Chicago, Ill., the first time in over 50 years, according to the NFL.
The Chicago Bears, founded in 1920 by then owner, George Halas, is one of the NFL's eldest and most storied franchises.

To learn more about Kevin White visit http://www.chicagobears.com/search/tags/kevin+white.
For more information about the Chicago Bears visit http://www.chicagobears.com/index.html.