South Suburban Mayors Launch Organ/Tissue Donor Awareness Outreach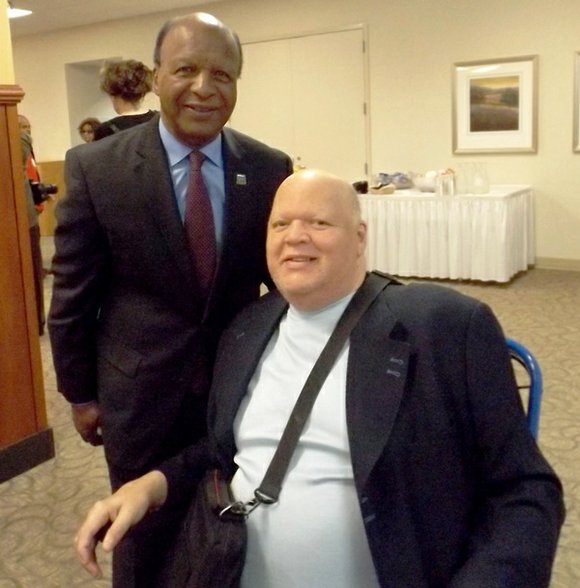 South Suburban Chicago mayors, at least one U.S. elected official and area clergy, came together March 11 at Ingalls Memorial Hospital in Harvey, to launch Gift of Hope Organ and Tissue Donor Network's unprecedented "Mayors for Hope," an initiative to deliver awareness and education regarding organ donation and transplantation to residents in their respective municipalities and to dispel myths, especially in African American communities associated with organ donation.
J. Kevin Cmunt, Gift of Hope's president and CEO said that the Mayors of Hope program is about focusing on getting out in the neighborhood to bring about awareness.
Though African Americans are in need of organs more than any other race, they are less likely to donate organs. African-Americans are at increased risk for high blood pressure, diabetes and heart disease—all of which can lead to organ failure and increase the need for organ transplants.
"There's something significantly wrong with the fact that African Americans constitute approximately 13 percent of the state population but represents better than 48 percent of the patients waiting for kidney transplants," said Jack Lynch, director of community affairs for Gift of Hope. "When we subject the Hispanic component to that, we're better than 60-plus percent, yet from those two groups, less than 20 percent of the organs that are donated."
Rev. Tyrone Crider of Mt. Calvary Baptist Church on Chicago's south side is in need of a heart transplant and was on hand for the event.
"Gift of Hope is working with me and I'm excited the mayors, (Ill.) Secretary of State, Jesse White and (U.S.) Congresswoman Robin Kelly (Dist.-2nd) are supporting this effort," said Crider who uses a wheel -chair to get around.
As part of the campaign, Mayors of Hope, along with Gift of Hope representatives will fan out into the south suburban towns and villages and engage individuals in churches, barber shops and beauty salons, about becoming organ and tissue donors.
Monica Fox is among the African Americans waiting for a transplant with 123,000 people ahead of her.
"I am 50 years old, and I am waiting for a kidney transplant. In the first 24 hours, the doctors told my family that I wouldn't make it, but I come from a long line of praying people," she said. "Waiting 5 to 7 years on this list is not going to work. I'm praying that I will get a living donor."
Secretary White runs one of the largest organ/tissue donor organizations in the world with the Life Goes On, Organ/Tissue Donor Program.
"One of my Jesse White Tumblers was shot coming out of the Ford City Mall and his organs were donated. A lot of people have bought into the myths that if you sign up for organ donation, doctors won't try their best to save you or people feel their organs will be sold. Please don't buy into these myths," White said.
Harvey Mayor, Eric Kellogg and other mayors, as part of the Mayors of Hope program, will focus on dispelling the long-held beliefs African Americans have about organ donation.
"As mayors it's imperative to put in the time to address the negative statistics and begin to dispel the myths surrounding organ donation. It's critical that we put in place a communications process to make a positive impact and continue to dialogue," said Kellogg.
Though Fox is still waiting for a kidney, Thornton Township supervisor, Frank Zuccarelli, who underwent a kidney transplant in 2013, became emotional as he recalled going through kidney failure and getting dialysis treatment he as waited for a kidney.
"I want to live again and want to do more. I never thought I'd be able to get a kidney," Zuccarelli said choking up at the podium. "On Dec. 10, (2013) I got my kidney and have progressively gotten better…Please everybody, understand this is very important to all people and we can't live without your help so please pass the word."