Gov. Rauner Makes South Side Stop to Push Illinois Turnaround Agenda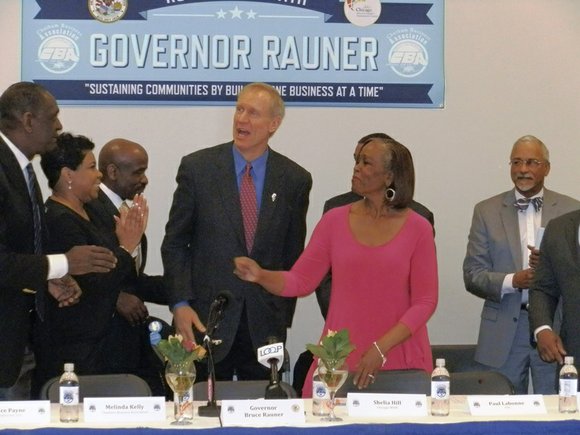 Ill. Gov. Bruce Rauner visited the QBG Foundation/Chicago Citizen Newspaper headquarters, 806. E. 78th St., last Friday for a lunch meeting, co-hosted by the Chatham Business Association (CBA) and the Chicago Minority Supplier Development Council to discuss the minority economic development section of his Illinois Turnaround Agenda. Over 40 south side Chicago business owners and stakeholders attended.

The Illinois Turnaround Agenda is a three pronged vision for the state's economic, education and tax systems. To view the entire Agenda visit https://www2.illinois.gov/gov/Documents/CompiledPacket.pdf.
"I think it's very important for [Gov. Rauner] to come to the community [and] talk to the business leaders," said Melinda Kelly, CBA's executive director. "It's important for him to come and listen and share with the exchange of ideas. We brought, I feel, a very excellent group of business owners who are serious about the business at hand."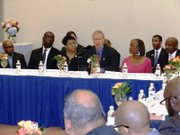 Kelly, and Shelia Hill, president/CEO, Chicago Minority Business Development Council, introduced the mix of small business owners and community organizations to Rauner, who then asked for their help in seeing that they get their fair share of contracts and financial support for business startups and provided them with two key Springfield contacts.
"I'm here because you are the key to prosperity in Illinois," Rauner told the group. I'm working for you. If you are not thriving, our young people don't have a future and we have to create opportunity for young people."
As part of the Turnaround Agenda, Rauner said the state needs to make sure African American businesses have equal access to state contracts and take power away from the insiders.
"We're going to restructure the Illinois Department of Commerce and Economic Opportunity and create a Minority Enterprise Small Business Investment Program to assist minority entrepreneurs in startups throughout Illinois--which should not have been done away with-- so that African American businesses have access to capital," Rauner said.
Rauner's Turnaround Agenda was laid out during his State-of-the-State Address in Feb. as he shared details about Illinois' grim outlook for businesses and population declines.
"We've had too many businesses that have left," Rauner remarked. "I spoke with the owners of two companies who said they left the south side because of the crime and moved to the suburbs. I'd like to have good manufacturing jobs coma back to Chicago. I'm not anti- union but we have to be a government for everyone. We need an economic development environment where you can thrive as business owners."
Attendees in return, were allowed to query the Governor.
George Williams, chief executive officer, PMI Energy Solutions, addressed Rauner during the meeting saying, "There are a lot of firms that want to do business with the state…one of the issues are access to capital and the time it takes for those who do business with state, to get paid in a timely manner."
Rauner replied saying, "I've got to restructure the government so that is runs right…This is a turnaround and there will be short-term pain for long-term gain. There's no reason we can't pay our bills within 30 days."