The Chicago Citizen Newspaper Stands with Chicago Mayor Rahm Emanuel
Editorial | 3/25/2015, 12:07 p.m.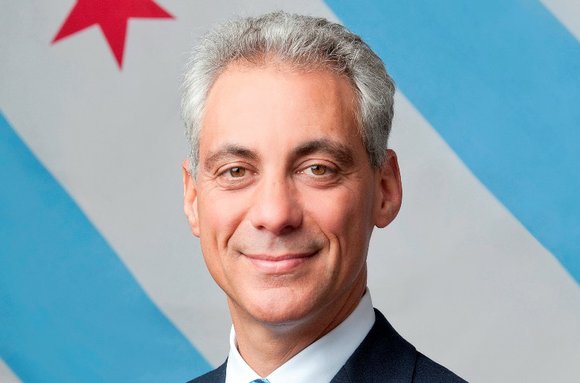 In February, the Chicago Citizen Newspaper endorsed Rahm Emanuel for Mayor over several candidates, one being Cook County Commissioner Jesus "Chuy" Garcia. Today, we are unwavering in our commitment, lending full support to the Mayor, as he heads into the special runoff election against Garcia on April 7.
A recent Ogden & Fry poll conducted among 951 likely voters, shows Emanuel leading the race with support from 48.5 percent of those polled, while Garcia hangs on at 32.1 percent (margin of error of 3.24 percentage points). However, 18.4 percent of those polled are still undecided.
Since taking office in 2011, the Mayor has remained true to campaign promises he made in 2010, particularly his promises to improve critical issues including Chicago's educational system, economy, technological infrastructure, and crime problems. Additionally, Emanuel has been succinct, organized and transparent as he successfully executed progressive plans for Chicago's future.
Now, this is where we need undecided voters to pay close attention...
Recently, both Emanuel and Garcia were asked to release their future City budget plans for voters to review. Here's what we found...
Chicago Mayor Rahm Emanuel's budget plan -
Slow the growth of pension costs by reforming the cost of living formula. In the agreements for three pensions funds reached last year, Emanuel worked with organized labor to shift cost of living adjustments from a formula based on compound interest to a simple interest approach.
Maintain the current retirement age for public employees. Though retirement age is a common reform pushed by governments across the country, Emanuel believes that hard-working public servants that have planned on retiring are entitled to the security that they have depended upon for years.
Gradually increase employee contributions. While taxpayers will be asked to pay more,
current employees will also be asked to pay a little extra towards their retirements. Last year, active employees contribute an average of roughly $300 a year more towards their retirements.
Protect retirees with lower pension income. To ensure those struggling to
make ends meet are protected, Emanuel exempted retirees with annuities of $22,000 a year or less from certain cost of living formulas.
Phase in funding increases.
Just as employees are asked to increase their contribution slowly and steadily over time, the same will be asked of taxpayers.
Cook County Commissioner Jesus "Chuy" Garcia's budget plan -
In review of Garcia's budget, an eighteen-page document, the Chicago Citizen Newspaper found that the first ten pages were an attack on the Emanuel administration instead of an explanation on how Garcia would pay down the $27 billion debt owed by the city and its schools. It also lacked details on how a proposed Garcia administration would tackle the City of Chicago's $30 billion in unfunded pensions.
Garcia has defended his anemic plan by telling reporters at a recent news conference that he would appoint a committee to help resolve the City's budget problems and that he would report back to City of Chicago residents with findings, 90 days after the election.
Who wants to wait 90 days after the election? The Chicago Citizen Newspaper sure doesn't and neither do voters! Really?
According to news reports, here's what some local officials are saying about Garcia's plan:
Garcia's plan "fails to specify any specific reforms or revenues....My student interns could have put forth a more thorough and responsible budget plan....There's a difference between a doer and a talker." - City of Chicago Clerk, Susana Mendoza
"We don't need another blue-ribbon commission for work that's already been done." - City of Chicago Treasurer, Kurt Summers
"Residents of Chicago cannot trust city budget plan presented three months after an election, nor can they trust a Mayoral candidate who proposes to submit a city budget plan three months after an election." - The Chicago Citizen Newspaper
(To review the Mayor's budget plan, visit https://tribwgntv.files.wordpress.com/2015/03/rahm-emanuel-budget-plan.pdf)
The Chicago Citizen Newspaper proudly stand with Chicago Mayor Rahm Emmanuel.