Activist Rev. Willie Barrow "The Little Warrior" Remembered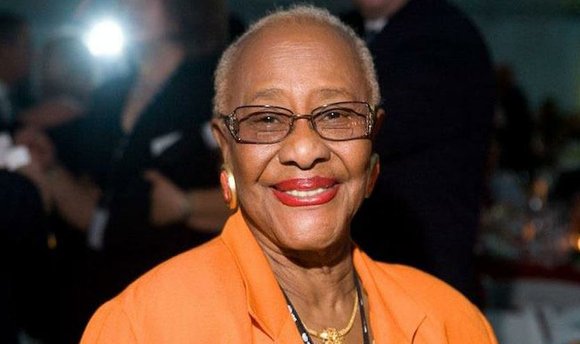 Chicago and the nation along with friends, and godchildren including President Barack Obama, and members and volunteers of the Rainbow PUSH Coalition, are mourning the death and acknowledging the life and legacy of Rev. Willie Taplin Barrow. The longtime, Civil Rights activist, died in her home on March 12, with her pastor Rev. Jerald January, Sr., senior pastor of Vernon Park Church of God; Atty. Rev. Janette Wilson, Assistant General Counsel for Rev. Jesse L. Jackson, Sr. and Operation PUSH Inc., and others by her side.
Barrow was recently hospitalized due to a blood clot in her lungs.
"Janette and I and a few others spent her last minutes with her," Rev. January said. "She wanted to go home from the hospital and so we brought her home and she died at 12:20 a.m. in her bedroom after making her last wishes known and planning her funeral and celebration services. She was my heart."
Rev. Jesse L. Jackson, Sr. said in a statement that Barrow was a woman of unusual courage and character and a freedom fighter in the tradition of Rosa Parks and others.
"She was fearless," Jackson said. "Death can have her frail body but not her good works and not our memories of her. We love you. Rest in peace; we will never forget you."
Affectionately known as the "The Little Warrior," Barrow had one son Keith, whom she bore with her husband Clyde. Both Keith and Clyde, preceded her in death.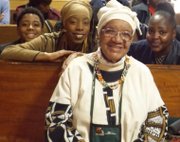 'Queen Mother' Rev. Helen Sinclair, 94, one of Barrow's close friends and fellow activist, was among those in attendance for a Friday press conference held to announce Barrow's funeral and celebration service.
"When they first started Bread Basket, there were three women, Rev. Addie Wyatt, (deceased) Rev. Barrow and Rev. Jessie 'Ma' Houston (deceased). I was with the prison ministry and worked with Rev. Barrow through the years. I sat with her every day at PUSH and will miss her greatly. She would always say she felt safe when I was next to her."
As Barrow mothered her own children, she was also "godmother" to some 200 young people and civil rights activists whom she lovingly embraced and advised, President Barack Obama among them. The President issued a statement describing Barrow as a Civil Rights icon, a Chicago institution, a "Little Warrior" in pursuit of justice for all God's children.
"In 1936, when she was just 12 years old, Rev. Barrow demanded to be let on to her all-white school bus in Texas, and the fight for equality she joined that day would become the cause of her life," President Obamas stated. "She marched with Dr. (Martin Luther) King (Jr.) on Washington and in Selma.   She stood up for labor rights and women's rights.  She made one of the first pieces of the AIDS Memorial Quilt, and proudly welcomed LGBT brothers and sisters to the movement she helped lead. Nowhere was Rev. Barrow's impact felt more than in our hometown of Chicago.  Through Operation Breadbasket, the Rainbow/PUSH coalition, and her beloved Vernon Park Church, she never stopped doing all she could to make her community a better place.  To Michelle and me, she was a constant inspiration, a lifelong mentor, and a very dear friend.  I was proud to count myself among the more than 100 men and women she called her "Godchildren," and worked hard to live up to her example.  I still do.  Michelle and I are deeply saddened by Reverend Barrow's passing, but we take comfort in the knowledge that our world is a far better place because she was a part of it.  Our thoughts and prayers are with Reverend Barrow's family, and with all those who loved her as we did."