Women's History Month Salute to Pulitzer Prize Winning Poet, Gwendolyn Brooks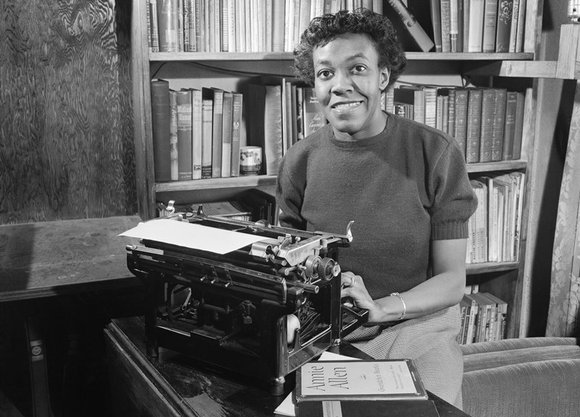 One of Chicago's own literary giants, poet Gwendolyn Brooks, the first African American Pulitzer Prize winner for her second book of poetry, titled, Annie Allen, began writing and publishing as a teenager, eventually achieving national fame for her 1945 collection, A Street in Bronzeville.
Born in Topeka, Kansas, on June 7, 1917, Brooks moved to Chicago at six weeks old with her family who relocated during the Great Migration. It was an era (1916 to 1970) when more than 6 million African Americans from the nation's rural South moved to cities in the North, Midwest and West.
Brooks' education included three high schools, the integrated Hyde Park High School; the all-black Wendell Phillips Academy High School and the integrated Englewood High School.
The racial prejudice Brooks was said to have encountered while in high school, shaped her understanding of social dynamics in the U. S. and influenced her writing.
In 1936, Brooks graduated from Wilson Junior College, having already begun to write and publish her work.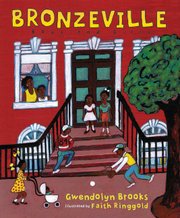 Brooks' first poem was published in a children's magazine when she was 13. By age 16, approximately 75 of her poems were published including ballads, sonnets and free verse and drawing on musical rhythms.

"I felt that I had to write. Even if I had never been published, I knew that I would go on writing, enjoying it and experiencing the challenge, " Brooks reportedly said of this time in her life.
As she developed as a writer, Brooks worked as a secretary to support herself and took part in poetry workshops, including one organized by Inez Cunningham Stark, an affluent woman with a literary background. While Stark was white, all of the participants in her workshop were African American. Brooks made great strides during this period, garnering official recognition. In 1943, her work received an award from the Midwestern Writers' Conference.
Brooks married Henry Lowington Blakely Jr. in 1939. The couple had two children, Henry and Nora.
At age 68, Brooks was the first black woman appointed Consultant in Poetry to the Library of Congress. Later she served as Poet Laureate of Illinois, personally funding literary award ceremonies and visiting grade schools, colleges, universities, prisons, hospitals, and drug rehabilitation centers,devoted to encouraging young people to write.
Brooks' poem, Sadie and Maud reads as follows:
Maud went to college.   
Sadie stayed at home.   
Sadie scraped life
With a fine-toothed comb.
She didn't leave a tangle in.   
Her comb found every strand.
Sadie was one of the livingest chicks   
In all the land.
Sadie bore two babies   
Under her maiden name.   
Maud and Ma and Papa   
Nearly died of shame.
When Sadie said her last so-long   
Her girls struck out from home.   
(Sadie had left as heritage
Her fine-toothed comb.)
Maud, who went to college,   
Is a thin brown mouse.
She is living all alone
In this old house.