6th Annual Circle Foundation Benefit Gala to Support At-Risk Chicago Students
Lee Edwards | 3/11/2015, 11:38 a.m.
The CIRCLE Foundation is having its 6th annual CIRCLE Foundation Benefit Gala at Alhambra Palace, 1240 W. Randolph St., on March 22, 2015, as celebration of student success at Innovations High School (IHS).
The gala's theme is PEACE: Powerful Education Activates Change Everywhere. It aligns with CIRCLE Foundation's goal to inspire, motivate and empower their students to realize their highest aspirations. The CIRCLE Foundation will honor recipients of the "Inspire, Motivate and Empower" awards and the prestigious "Student of the Year" award.
"The society we live in today faces many challenges. At the crux of these are a lack of knowledge, lack of hope and an abundance of apathy," said CIRCLE Foundation Co-founder and CEO, LaShaun Jackson. "CIRCLE Foundation has been organized to tackle these problems head on. Many of our students have been confined to the realities of the hardships and violence they see every day in their neighborhoods. We want to give our students the opportunity to see and experience something different and something greater that they can strive for."
The annual gala serves as the CIRCLE Foundation's lead fundraising event.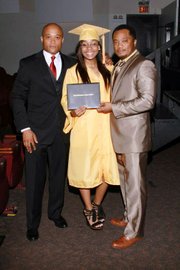 "Donations, support and volunteerism help us continue to provide quality services to the communities that we serve," said Jackson. "Every dollar and every hour of volunteer time that is given is an important investment in the lives of young people who greatly need your support. By purchasing a ticket to the gala and taking part in the event, you're showing these students that you can help them make a positive difference in their lives and in the lives of those around them through the greatest gift of all— education."
The gala will be hosted by Celebrity Comedian Damon Williams. Attendees will be treated to speakers from IHS, including powerful testimonials from students on how the school and its teachers have transformed their lives.
Tickets can be purchased at the door or online at Eventbrite. For more information, please call 312-999-9360 x107 or email info@circlefound.org.
IHS, a Youth Connection Charter School owned and operated by CIRCLE Foundation, offers a 22-credit high school curriculum in a small school setting for 324 students 17-21 years of age who have experienced challenges in other schools, which lead them to being at-risk of failure or dropping out. The school is designed to refocus students on academics and push them to excel and strive for the highest standards. For more information about Innovations High School visit http://innovationshs.org.

CIRCLE Foundation is a 501(c)(3) non-profit organization that facilitates innovative educational experiences, inspirational leadership development, insightful guidance opportunities and dutiful support service programming. For more information, visit http://circlefound.org/