South Side Help Center Partners with AIDS Healthcare Foundation to Provide Services for HIV/AIDS Patients
Lee Edwards | 3/4/2015, 12:17 p.m.
Recently, the South Side Help Center (SSHC), 1525 E. 55th St., announced plans to expand its critical health services for individuals affected by HIV/AIDS by teaming up with the AIDS Healthcare Foundation (AHF).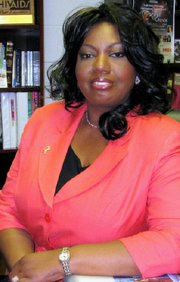 "Through this affiliation, South Side Help Center will be able to strengthen the vital services we have provided to our community for years and we will be able to offer more services to greater numbers of people in need. The affiliation also helps ensure the longevity of SSHC as well as continuity of the lifesaving programs provided to Chicagoans in need," said Vanessa Smith, Executive Director of the South Side Help Center. "SSHC and AHF are jointly committed to addressing the needs of the underserved and marginalized and, particularly, the African-American and other communities of color living in Chicago. These communities continue to be disproportionately impacted by rising rates of infection while having access to fewer resources needed to staunch the epidemic."
Founded in 1987, the South Side Help Center (SSHC) assists people of all ages embrace a lifestyle of prevention against mental, physical and social ills by providing positive, healthy alternatives so that community residents can lead productive lives according to its website.
According to the Centers for Disease Control and Prevention (CDC), African Americans are the racial/ethnic group most affected by HIV. African Americans are infected by HIV at 8 times the rate of whites based on population size. For more information about how African Americans are affected by HIV/AIDS visit http://www.cdc.gov/hiv/risk/racialethnic/aa/facts/index.html. HIV stands for human immunodeficiency virus. It is the virus that can lead to acquired immunodeficiency syndrome, or AIDS. Unlike some other viruses, the human body cannot get rid of HIV. That means that once you have HIV, you have it for life.
Announced by AHF, too, was the launch of the AHF Black AIDS Crisis Taskforce (ABACT), an independent group comprised diverse, talented and experienced agency and community leaders who will focus on strengthening the people and organizations who serve communities of color through the United States and beyond. Its mission centers on ensuring that access to care and support for all of those impacted by HIV/AIDS is significantly expanded here in Chicago and throughout the United States.
"Because of AHF's unique position both as an advocacy organization and as the largest provider of HIV/AIDS medical care in the United States, we— together with SCHC and other affiliates and partners—are in a prime position to develop something revolutionary to stop the spread of HIV, particularly amongst the African American community," said Michael Weinstein, President of AIDS Healthcare Foundation.

In addition to its affiliation with the South Side Help Center, AIDS Healthcare Foundation is proud to announce its support of public health in the greater Chicago area with the opening of its first specialized HIV clinic in Illinois. The AHF Healthcare Center, 2600 S. Michigan Ave., began offering specialized, client-centered HIV/AIDS medical care and services through its South Side storefront location beginning mid-January. Dr. Kaleo Staszkow serves as Medical Director at the healthcare center, which now operates two days per week—Mondays & Thursdays. Additional days and hours will be added as the clinic census grows.
AHF Healthcare Centers aim to decrease the number of new HIV/AIDS diagnoses by providing:
Free HIV testing so people can be aware of their status;
Immediate linkage into care – regardless of ability to pay – for those who test positive; and
Support through ongoing follow-ups to ensure adherence to a health regimen that will ultimately extend life expectancies and reduce the risk of transmission.
AIDS Healthcare Foundation is a global organization that provides cutting-edge medicine and advocacy to more than 382,000 people in 36 countries. AHF is also the largest provider of HIV/AIDS medical care in the United States, currently providing services in 13 states and the District of Columbia.
To learn more about AIDS Healthcare Foundation (AHF) visit www.aidshealth.org.