NNPA Celebrates 75th Anniversary and Prepares for Future
Lee Edwards | 6/24/2015, 3:52 p.m.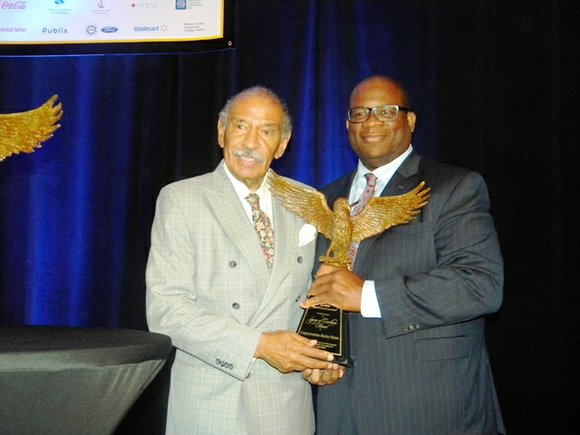 Members of the historic National Newspaper Publishers Association (NNPA) celebrated the organization's 75th anniversary at the 2015 NNPA Convention held at the Detroit Marriott at the Renaissance Center, 400 Renaissance Dr., Detroit, Mich.
The National Newspaper Publishers Association is a national trade organization comprised of over 200 African American owned print and digital newspaper publications. Additionally, NNPA established the NNPA Foundation, a 501 c(3) non-profit organization professional training and encouraging excellence in the publishing industry.
The Convention produced several events including a National Youth Empowerment Day, GM Salutes NNPA 75th Anniversary, NNPA Presents: Power and the Pulpit – A Gospel Brunch Event, and the main event, the NNPA Legacy Awards Black Tie Dinner.

The NNPA membership also elected new Board Members and offered social media and revenue generating workshops.
"I think the 2015 Annual [NNPA] Convention celebrating the 75th Anniversary of the NNPA has been a tremendous success," said NNPA President/CEO Dr. Ben Chavis, Jr. "We're not only looking back at the last 75 years but we're looking forward 75 years. We want to strengthen the black press in America, we want to strengthen our print press but also [recognize how] the digital media supplements and compliments the print press, not take the place of the print press … that's the challenge going forward."
Chavis, Jr. used the Convention's momentum to catapult the announcement of an official NNPA database of digital images, development of a NNPA app and development of official NNPA credentials for journalists.

The Convention's lead corporate partners, Ford and Chevrolet, were represented by their parent company, General Motors (GM) during the Convention. James Farmer, GM, vice president (ret.). congratulated the NNPA on its 75 year milestone and achievements.
"Many of us at General Motors are very strong supporters of NNPA and being here tonight really solidified a lot of the work we've done over the years to make this a viable organization," said Farmer. "General Motors takes very seriously its relationship with NNPA and many of us work behind the scenes to see that things happen… and being here this weekend it is important for us to keep pushing the message to publishers that sometimes you forget how strong you are…you are an important media group and you have to exercise that moving forward."

U.S. Congresswoman Maxine Waters (CA-43rd) and U.S. Congressman John Conyers, Jr. (MI-13th) received the NNPA's 2015 Legacy of Excellence Award which honors African American press pioneers who exemplify courage, commitment, sacrifice and achievement.

"In the spirit of keeping progress going and trying to see that we keep peace and not start wars, be diplomatic instead of military, to create full employment in society… it is with that spirit that I proudly and humbly accept this award," said Cong. Conyers.

Cong. Waters was unable to attend.
The Chicago Citizen Newspaper is a proud member of the National Newspaper Publisher Association.

To learn more about the National Newspaper Publisher Association visit http://nnpa.org/.