Cullen Jones 'Makes a Splash' in Chicago by Teaching Youth to Swim
Lee Edwards | 6/24/2015, 4:18 p.m.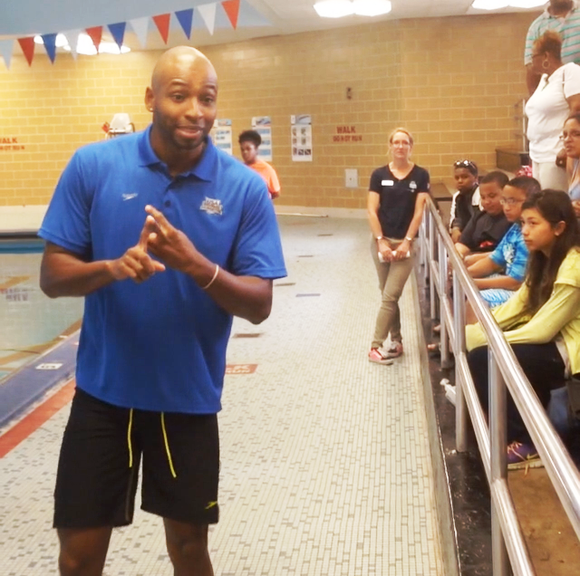 Two-time Olympic swimming gold medalist, Cullen Jones, recently gave free and reduced cost swimming lessons at Foster Park, 1440 W. 84th St. in Chicago, for "Make A Splash", an initiative presented by the USA Swim Foundation (USF) and Philips 66, aimed at lowering nationwide drowning death rates.

The USA Swimming Foundation is the philanthropic arm of USA Swimming, the national governing body for the sport of swimming in the United States. USA Swimming is a 400,000-member service organization that promotes the culture of swimming by creating opportunities for swimmers and coaches of all backgrounds to participate and advance in the sport through clubs, events and education.
According to a study conducted by the University of Memphis, 10 people die from drowning every day in the United States and 70% of African Americans and 60% of Hispanics/Latinos cannot swim. However, the study also found that if children took formal swimming lessons, childhood drownings in the U.S. could reduce by 88%.
"I saw some of the drowning rates and USA Swimming Foundation and Phillips 66 were putting together Make A Splash initiative and I wanted be a face for it and I knew I had to give back because I thought of my own family and friends," said Jones. "It's important that people be safe as possible around the water. We want to give [kids] the tools to succeed rather than hold them back."
In addition to Jones, other U.S. national team swimmers are giving swimming lessons at Chicago Park District (CPD) pools across the city.

USF Executive Director Debbie Hesse loved Jones' infectious energy with the children and was proud that he was reaching the African American community. Hesse said USF donated $3.6 million for free and reduced cost swimming lessons to communities nationwide including a $7,500 donation to Chicago Park District.

"To have [Jones] here inspiring the children of the next generation is what the USA Swimming Foundation and 'Make A Splash' are all about," said Hesse. "We love Cullen being able to come out here as the second African American to win an Olympic gold medal. Seeing him make a difference in the African American community…you can really feel it, it's tangible, he really connects with African American audiences."
The Chicago Park District offers swimming lessons, water polo, and other aquatic programs throughout the year. To learn more about CPD's aquatic programs visit http://www.chicagoparkdistrict.com/programs/aquatics-programs-/.

"[It's] amazing, amazing to see [Jones] in person and see him socialize with the kids and get them involved let them be aware of the water," said Miriam Fuentes, CPD Product Training Specialist. "I thought he gave a great lesson about the basics, blowing bubbles, arm circles and floating in the water."
Michelle Whitton, a community resident, who brought her son and nephew for the swimming lesson was overjoyed with Jones' instruction and professionalism.
"I feel like crying… to see this young man (Jones) giving them tips and instruction this is a wonderful event…I appreciate it, I appreciate him," said Whitton. "It's good to go into the community and let African American children know that they can come to the park and swim. Seeing [Jones'] face, I think a lot of African American men and women will go to the park to learn how to swim more now than ever."
To learn more about Make A Splash visit USASwimmingFoundation.org.
To learn more about the Chicago Park District's swimming courses and programs visit http://www.chicagoparkdistrict.com/.