Graduate Fashion Week 2015
Ushers in a New Wave Of Designers
6/10/2015, 3:32 p.m.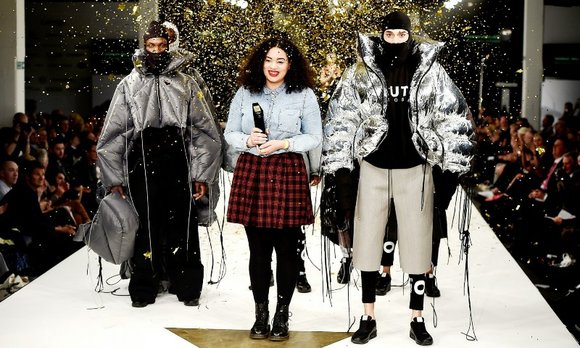 Eccentric high-end looks and commercial lines from the latest generation of emerging talent hit the runways for the industry event's 24th year.
(GFW) finished last week with a gala catwalk show crowning the recipient of this year's gold award. Hannah Wallace, from Manchester School of Art, was named the winner for her edgy but wearable ski-influenced collection featuring oversized padded jackets and logoed sportswear. Her prize includes £10,000 and a paid internship with George at Asda, which is a major sponsor of the awards. Previous winners of the GFW gold award include revered designers Matthew Williamson, CEO and creative director of Burberry Christopher Bailey, Stella McCartney and Giles Deacon.
The front row at east London's Old Truman Brewery, where the event took place, included style blogger Bip Ling, and Suzy Menkes, international editor of Vogue. They watched as florals and boxy sportswear emerged as trends, with an influence from music culture ranging from reggae to hip-hop. Students from the University of Brighton to the University of Salford also showcased their collections.
Judges included Julien MacDonald, a former gold award winner, and television presenter Gok Wan. Both were keen to praise the event as a showcase of new talent – and put it at the forefront of the industry. "GFW is one of the most important dates in the global fashion calendar," said Wan. "Not only does it promote emerging talent, but it also acts as a source of inspiration for current leading fashion designers." MacDonald echoed Wan's sentiment, adding: "These are the designers of the future – the next Alexander McQueen."