Women of the AACM, A Musical Experience to Behold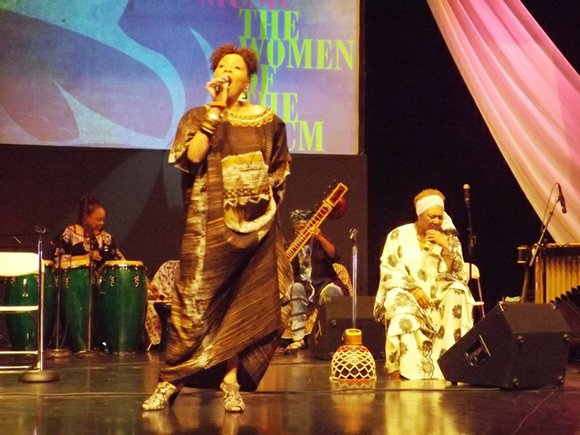 Celebrating their 50th year anniversary, Women of the Association for the Advancement of Creative Musicians (AACM) wowed the audience who gathered for a "spirit-filled" concert celebrating the milestone occasion.
Some leading female members of AACM shared their experiences as members of the organization during a panel discussion following the concert.
Concert goers, who gathered for the musical event at DuSable Museum Friday evening, were not short of questions and praise for the talented women whose versatile music acumen, whether playing instruments or using their voices, brought forth beautiful sound.

Moderated by Kai El'Zabar, executive editor of the Chicago Defender Newspaper, the panel featured musician/composers Ann Ward, Coco Elysses, Maia, Shanta Nurullah, Sherry Scott and Rita Warford.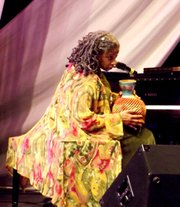 When asked about the type of "folksy" music, they performed, Ann Ward who plays piano among other instruments, said "It was a professor at Kentucky State University who exposed me to this type of music."
As for what drew her to the AACM, Ward said, "It's a community-based, (music) organization…a way for us to build our communities and enrich our children's lives by bringing forth music that is part of our history."
To be part of the group, requires a sponsorship from a sitting member and then be voted into the group. Members also have to create and perform their own music.
Scott, a former member of Earth Wind and Fire, was the only female AACM for three years.
"The music opened up my life. The creativity that came from us is spiritual and Godly. I think God chose us to be as Black as we are. I'm thankful that I was the first vocalist of the AACM."
Nurullah is perhaps one of the "badest" bass players one will ever see or hear, and had concert goers jumping out of their seats with applause as she stroked the strings of her bass guitar.
"There were times early on that my phone didn't ring for gigs," Nurullah told the audience.
The performance and discussion were held in conjunction with the exhibition "Free at First: The Audacious Journey of the AACM" co-curated by jazz advocate Janis Lane Ewart and Dr. Carol Adams, retired CEO of DuSable Museum and designed by muralist/fine artist Dorian Sylvain, is on display through September 2015.
For more information about the exhibit, please contact DuSable Museum at (773) 947-0600.