Abena Joan Brown, Black Theater Pioneer, Touched Everyone She Knew
(Opinion)
When my dad died, my family scrabbled to find a place to hold his memorial in Chicago.
He was an artist reared on the South Side but spent the last two decades of his life operating a gallery in Washington, D.C.
The answer became clear. We held Norman Parish Jr.'s memorial on Aug. 31, 2013 at the eta Creative Arts Theater (eta), 7558 S. South Chicago Ave., Chicago.
My dad was good friends with eta's founder, Abena Joan Brown.
Like almost every artist she met, Brown was a powerful influence in his life.
"She was an extraordinary person in the arts," said Useni Perkins, a writer who had known Brown for roughly a half century. "She had a strong compassion for black people."
On July 12, Brown, herself, died after a short illness. She was 87. I have been thinking about her a lot since she died and it occurred to me, she had not only positively impacted hundreds of artists and entertainers, but me, as well.
Aside from majoring in mass communications to become a journalist, I also majored in speech and drama largely because I was influenced by the plays Brown held at eta.
Both my sister and I eventually performed in plays tied to Katherine Dunham's production group in Southern Illinois.
My acting, however, was nothing to write home about.
But the first poem I ever won an award for was about a dinner at Brown's apartment on the 7600 block of South Bennett St.
She was a great cook, storyteller and host.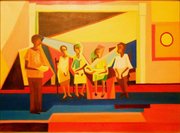 Her home was filled with African American and African art. Even her hallway outside her apartment had paintings hanging in it.
She loved to entertain.
There were Kwanzaa celebrations and African naming ceremonies at her home.
Brown loved being in the center of things and she loved to work with youth. In her many visits to Africa, she brought several black youth along with her.
"We felt as a people that we couldn't progress unless we understood our relationship with Africa," Perkins said.
And she had many productions for black children at her theater, the eta, which is a 200-seat playhouse with a gallery space and classrooms.
Overall, Brown produced more than 200 theatre productions before she retired in 2011. She was president and producer of eta from its start in 1971.
Brown, a Chicago native, began her interest in the arts at age 3 when she began dancing. Her passion for the arts continued into adulthood gaining widespread experience as an actress, company manager, stage manager and producer. She helped start many other theaters and was inducted into the Women's Hall of Fame in 1991 and into the Literary Hall of Fame at the Gwendolyn Brooks Center at Chicago State University in 2000.
"She was one of the most brilliant women that I knew," said Val Gray Ward, founder of the Kuumba Theatre in 1968.
Brown received her bachelor's degree from Roosevelt University in Chicago and a master's degree from the University of Chicago's school of social service administration, one of the firsts blacks to get a degree in that program.
She even helped other blacks to attend the university.
She was very nice but she didn't tolerate nonsense.
"She was bold and audacious," Perkins recalled. "She was perhaps over demanding because of her desire for quality theater."
But Perkins, who wrote several plays for Brown, acknowledged that she inspired him.
She inspired my dad, too.
In the late 1970s, my dad created a painting called the "Naming Ceremony," which depicted an African naming ceremony at Brown's apartment.
In March, I made the image the cover of my Facebook page. The painting, itself, is in storage in Washington, D.C.
I always liked that painting.
I also always liked Brown. She seemed to be around whenever you needed her. And her theater was the perfect place for my dad's memorial a couple of years ago. Her staff made my family comfortable during our grief.
On Thursday, Brown's memorial will be held at Metropolitan Community Apostolic Church, 4100 S. King Drive, Chicago. Doors open at 6 p.m.
By: Norman Parish