3rd District CAPS Meeting Aimed at Strengthening Partnership with Community
Lee Edwards | 7/8/2015, 11:55 a.m.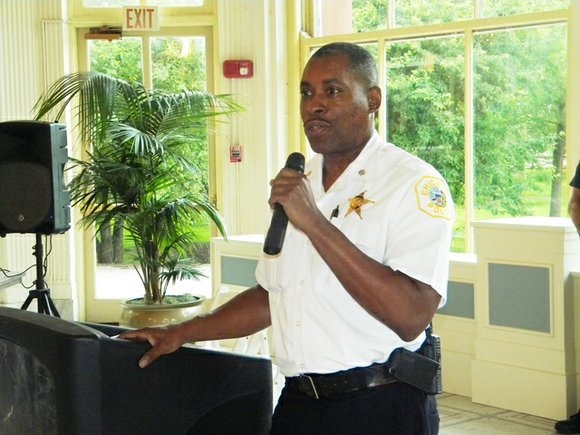 Chatham, South Shore and Woodlawn neighborhood residents in Chicago, recently met with high ranking 3rd Dist. Chicago Police Department (CPD) officers during the 3rd District Chicago Alternative Policing Strategy (CAPS) All Beats Beat Meeting at the South Shore Cultural Center, 7059 South Shore Dr.
CPD's third district extends from South Shore Dr. to the Dan Ryan Expressway and from 75th St. to 60th St. There are 12 beats within the third district.
Presenters discussed crime updates, crime prevention tactics and CAPS community outreach programs. CPD Commander James E. Jones, (3rd Dist.), a 29-year CPD veteran, said CAPS is a two-fold, "we help the citizens and the citizens help us" system.
"One positive thing that the police department can do is interact with the community," said James E. Jones, CPD Commander Jones. "That's part of knocking down crime and keeping crime down. We know from historical data that we can't arrest ourselves out of the situation that we have in Chicago. The best way we can combat crime is to work with the citizens to rid the crime out of communities block by block."
Commander Jones urged residents who withhold key information that may help solve a crime, to step forward and abandon the unspoken "code of silence."
"If you don't tell what you see and what you hear in [the] community you reside in then how do you expect it to get better?" said Jones. "It's by coming out to meetings like this and telling what you see…that is how you can help the community get better."
Sergeant Yolanda Irving, a 22-year CPD veteran, said that the relationship between Chicago's youth and CPD has been "a little separate". Yet, she believes that consistent positive outreach might help mend the relationship.
The CAPS Clergy Subcommittee serves as the liaison between 3rd dist. officers and the community at-large. Third Dist. CAPS Clergy Subcommittee Chairman, Pastor Monte Rollerson of South Side Gospel Church, 863 E. East 64th, acknowledged while there are instances where community residents and law enforcement officers "don't see eye-to-eye", working together for the sake of the community should be the number one priority.
"For the most part we have a very tight working relationship," said Rollerson. "It's critical that we understand that we need each other. It's not me against you or us against them, fundamental solutions [are what] we're always looking for."
Implemented by the City of Chicago in 1993, CAPS executes a comprehensive community policing strategy geared toward encouraging residents to partner with CPD leadership, officers to prevent and reduce crime in all of Chicago's neighborhoods. CPD officers participating in CAPS hold monthly meetings within their district to exchange information about conditions in the neighborhood, identify crime and disorder problems, and develop strategies to combat those problems.
The Chicago Police Department divides the City into three specific geographic policing "Areas", North, Central and South, which are comprised of 25 communities i.e. "districts". Districts are supervised by designated CPD commanders who are responsible for the public safety of all residents within their territory. Districts themselves are broken-down into a collection of adjoining regions within the community known as "beats". All district commanders report to CPD Superintendent, Garry McCarthy.
To learn more about CAPS visit https://portal.chicagopolice.org/portal/page/portal/ClearPath/Get%20Involved.
To learn more about Chicago Police Department (Dist. – 3) visit https://portal.chicagopolice.org/portal/page/portal/ClearPath/Communities/Districts/District3.