Chicago Mayor Emanuel Faces Possible Runoff with Garcia
2/26/2015, 11:37 a.m.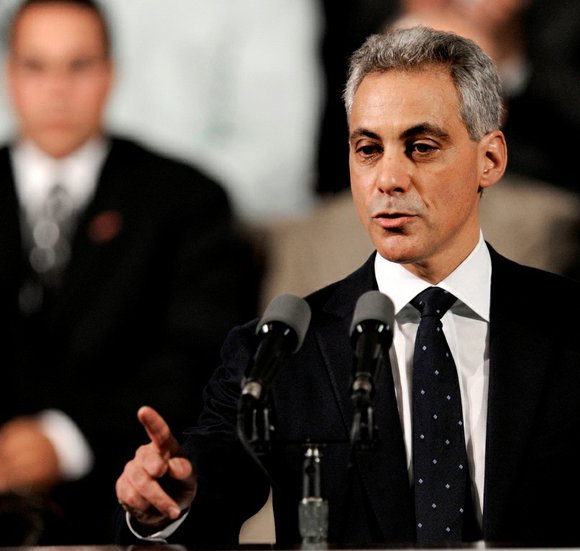 If you failed to cast a vote in this Feb. 24 Municipal Election, you might get another chance to do so during a possible runoff election on April 7 between Chicago Mayor Rahm Emanuel and Cook County Commissioner, Jesus 'Chuy' Garcia. By Chicago Citizen Newspaper press time, the race was too close to call.
The Chicago Board of Election Commissioner's website crashed Tuesday night at about 8:30 p.m. with 78.2 percent of the precincts reporting. The website was back up by 8:59 p.m.
With 80.9 of the precincts reporting, results showed Mayor Emanuel ahead with 172,670 (45.6%) of the votes and Garcia in second place with 128,511 (33.9%) of the vote.

The Chicago Citizen Newspaper contacted the Mayor's campaign headquarters and was told by spokesperson Steve Mayberry that the Mayor would release a statement about election results later in the evening. However the Mayor sent out a "Tweet" saying, "Very thankful for our supporters and volunteers."
As of 1995, instead of a partisan primary followed by a general election, Chicago's mayor is now chosen in a nonpartisan format, with a runoff election if necessary, in the case that no candidate receives more than 50 plus one percent of the vote.
Therefore, even if you voted on Feb. 24, you will have to vote again, April 7 in order to have your vote counted in the runoff election and if you did not vote Feb. 24, you get a second chance to vote on April 7.
Garcia was the predicted favorite for an April 'runoff' election against Mayor Emanuel but it was candidate Willie Wilson who captured the spotlight with his witty quips and inspiring story of how with only a 7th grade education, he went on to become a millionaire businessman with the ability to donate $1 million of his own money to his campaign war chest.
Gregory Livingston, Wilson's campaign manager said somewhere in the range of $2.1 million was spent on radio, television and print advertising for Wilson's campaign.
Wilson said at press conference Tuesday morning that, "I've enjoyed meeting people and being involved with the process. No matter what happens, I'm in politics for the rest of my life."
When asked about his thoughts about the election as voting drew to a close Tuesday evening, Wilson told the Chicago Citizen Newspaper, "I plan on winning."
With 80.9 percent of the polls reporting, Wilson had 39,642 (10.5%) of the votes.
Community activist, William 'Doc" Walls, an articulate community activist known for the numerous times he's competed in elections, with 80.9 percent of the precincts counted, Walls had 10,347 (2.7%) of the vote. Chicago Ald. Robert Fioretti (2nd Ward) who stood on his record of voting against Mayor Emanuel on City Council measures he felt were not in the best interest of voters, had 27,902 (7.4%) of the votes.
Kurt Summers was unopposed and is now the elected, City Treasurer and Susana Mendoza ran unopposed for City Clerk.