Alderman Sawyer and Harris Discuss Economic Impact Initiatives with CBA
Lee Edwards | 2/11/2015, 12:58 p.m.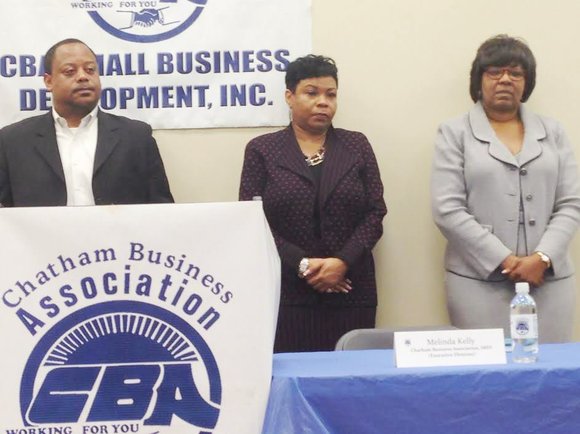 Chatham Business Association (CBA) welcomed Ald. Roderick Sawyer (6th Ward) and Ald. Michelle Harris (8th Ward) to its monthly membership meeting at the QGB Foundation Building, 806 E. 78th St. on Tuesday. The aldermen shared their ward economic development plans.
"We work hand and hand with them well, we communicate with them well so for CBA, for me personally, having a relationship with them both helps me do a better job for the community and I'm grateful that they're here," said Melinda Kelly, CBA executive director about Ald. Harris and Ald. Sawyer. "We just thought it would be good time with the different meetings going on and the different media blasts that we all kind of get together [and] talk to the community so that the business community can get direct answers to questions."
Harris spoke about how local entrepreneurs are important to the local economy and applauded Dat's Donuts, 8251 S. Cottage Grove Ave., for being the recent recipient of a $150,000 grant from Chase Bank.

Harris also stressed that she is willing to support the closing of undesirable business operators who for example, are undercover illegal drug dealers.

Ald. Sawyer responded saying, "This is not us making that decision, quite frankly, these businesses are making the decisions by themselves by operating illegally and against the will of the community so what we are doing is enforcing what the community wants, anyway. If there are bad operators it is our responsibility to get rid of them."
Stressing the value of safety, Harris explained that the commercial corridors and business areas within Chatham were designed for consumers to walk from business-to-business instead of simply driving by.
"What we have to do is make other people feel comfortable," said Harris. "This is supposed to be a walking community."
Harris also provided details about the former Sears department store property located on 1334 E. 79th Street, near Stony Island Ave. According to Harris, the owners of the property envision a storage facility taking the place of Sears. However, Harris said that she would like to see a grocery store or another type of business that would be more suited for the community replace the Sears store.

Sawyer outlined his proposal to transform the stretch of State St. within his ward, into a retail district. He also said that he is in contact with LAZ Parking with plans to provide more parking within the community, and that he is on a crusade to re-energize 75th St. back to its "Black Wall St." heyday and to establish more destination businesses.

Sawyer also said that he would like to see community friendly eateries and a nightlife where adults can have a good safe time and return home.

"We like what everyone else likes…I want quality… I want people have a reason to come to our area," said Sawyer.

The Chatham Business Association Small Business Development Inc. is a small business resource center that offers an array of customized services and programs designed to assist businesses. For more information about the Chatham Business Association visit www.cbaworks.org.