Chicago State University Hosts Mayoral Candidate Forum With Students at the Lead
Lee Edwards | 2/4/2015, 12:50 p.m.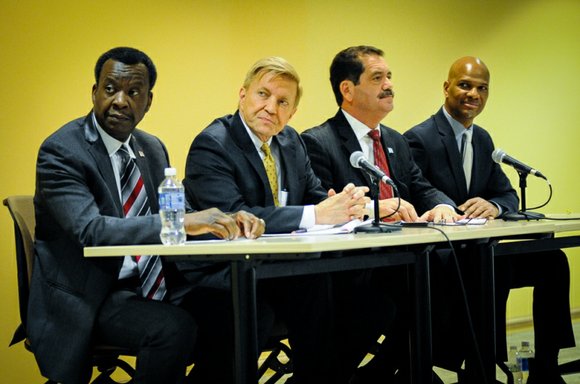 Chicago State University (CSU), 9501 S. King Dr., last week, hosted a mayoral candidates forum at New Academic Library's, CSU's on-campus library, auditorium featuring two panelists who are current CSU students.

To date, CSU's mayoral candidate forum is the only mayoral forum where Chicago college students were panelists. It was organized by CSU's African American Studies program and sponsored by CSU's African American Studies Program, The Young and the Powerful Group's Chicago branch, Coalition of African American Leaders (C.O.A.L.), and the Black Youth Project 100 (BYP 100).

Candidates Dr. Willie Wilson, William "Doc" Walls, Jesus "Chuy" Garcia, and Ald. Bob Fioretti (2nd Ward) all attended the event. However, Chicago Mayor Rahm Emanuel did not accept his invitation to attend.
"This forum has been put on by our professors and our students and this is what a university is supposed to do. We are in this community to provide a forum where in this instance we give the youth of the city a voice," said CSU President Dr. Wayne Watson. "The forums that will be taking place over the next couple weeks … none of them provide the youth of the city, the indigenous population of the city, an opportunity for a voice which is what this forum does. That is why if you are serious about becoming mayor you must come before the people. You must come before the community. We are inviting all five mayoral candidates."
Forum panelists included: Wendell Mosby, chairman, The Young and Powerful Group; Dr. Robert Starks; BYP 100 member; Kim Dulaney, professor of African American Studies, CSU; David Flynn, CSU student, Sociology major, BYP 100 member and Charles Preston, CSU student, African American Studies major,.

"My expectation is to get answers to questions that black folk face every day," said Preston. "Issues pertaining to police brutality, how blacks are more criminalized than whites when it comes to drug policies and certain laws such as marijuana laws in Chicago, etc."
When asked how he felt about Mayor Emanuel not attending the forum, Preston replied, "I do think it makes a statement. It makes the statement that his opponents or those that oppose him are willing to come down to the south side of Chicago and give their stance and he is not."
The panel asked the candidates several questions about an elected school boards, elected official term limits, election code reform, Tax Increment Financing TIF reform, and job creation for juvenile offenders.
Preston asked candidates, if elected mayor, would they support a BYP 100 initiative aimed at making low level marijuana possession arrests a civil offense instead of a criminal offense. Preston stated that the ratio of African Americans to Caucasian Chicagoans for low level marijuana possession arrests was 15:1.

Responding first, Dr. Wilson said, "I think it's wrong to have one class of people, in this case, African American people, go to jail for marijuana and in the white community you don't see them going to jail." Wilson added that he would support making marijuana possession a minor offense.
Fioretti responded by drawing attention to minority individuals who are currently in jail for low level marijuana possession and stated "this whole thing has got to be rethought".

"At the county we have instituted a system where we ticket people who are caught with small amounts of marijuana. I voted for it, I support it," said Garcia referenced his position as a Cook County Commissioner.

Walls also stated he believes there is a need to decriminalize marijuana.
For more information about Chicago State University visit http://www.csu.edu/.