Chicago Public Libraries Strive to Close Technology Divide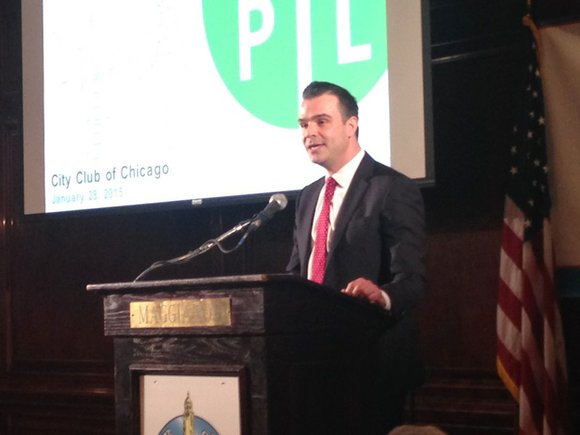 Last week, Chicago Mayor Rahm Emanuel and City of Chicago Public Library (CPL) Commissioner Brian Bannon announced at the City Club luncheon at Maggiano's Banquets, 111 W. Grand Ave., that the city plans to expand its digital footprint by initiating the "Internet to Go" (ITG) hotspot lending pilot program.


ITG is scheduled to launch in Feb. at CPL branches: Brighton Park, 4314 S. Archer Ave., Greater Grand Crossing, 1000 E. 73rd St., and Fredrick Douglass, 3353 W. 13th St.

In partnership with the Chicago Public Library Foundation (CPLF), ITG was funded a $400,000 grant from the Knight Foundation with an additional $175,000 in support from Google, the second major CPL tech lending initiative supported by Google.
"Closing the digital divide is essential to opening more doors of opportunity for every resident in the City of Chicago and this effort will help us make even more progress toward that goal," said Emanuel. "I am grateful to the Knight Foundation and Google for supporting this effort that will put 21st century technology in the hands of more residents in more Chicago neighborhoods so they can finally connect to the economic opportunities they deserve."
ITG will allow library guests the ability to borrow a laptop or mobile device in order to connect to the internet from home or on the go; the three pilot locations will each have up to 10 tablets available. Once tested, the pilot will expand to at least three additional communities.
"For a long time, while we always knew they were a community organization and community entities and centers and the heartbeat of the community, it's hard to be that when it's open from 9 a.m. to 6 p.m.," said Emanuel. "What Brian has done with his vision is be able to take the library and keep it open when the actual doors are closed through technology and understanding the role of technology and information."
For many Chicagoans, ITG may be their only access to the internet period. Bannon stated that nearly one third of Chicagoans do not have access to the internet from home and 19% of Chicagoans have never been online.
In April 2014, Google donated 500 Finch Robots for circulation to help kids as young as eight years old learn computer coding. By plugging a Finch Robot into a computer, a student can learn up to 12 different coding programs according to Bannon.

"Exposing children to coding at an early age can help demystify an area that can be intimidating while also teaching them to speak the language of the 21st Century," said Bannon.
Currently, CPL, the largest public library system in the nation resting at 80 branches located citywide, provides free internet access at all branches.
To learn more about the Internet to Go program visit http://www.chipublib.org/.