Kwanzaa Celebrations Remain Popular in Chicago Area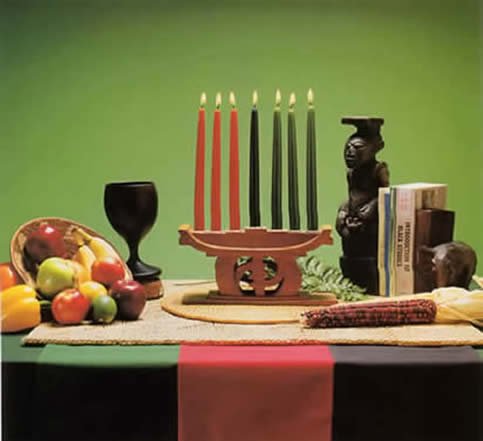 Ashley Frazier is a junior high school student and wanted to learn more about her African heritage.
So, the 13-year-old joined about 125 others Saturday at a long-time annual African-American event on Chicago's South Side: The Kwanzaa celebration at the Bronzeville Children's Museum, 9301 S. Stony Island Ave.
"Black culture is not something that is talked about enough in our schools," said Frazier, who attends a school in Flossmoor, Ill. "I want to learn as much as I can about our heritage."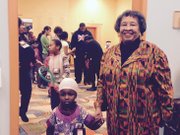 Frazier, who was brought to the event by her mother, joined youngsters in learning about Kwanzaa and singing songs. Some of the younger participants also marched with balloon hats made at the celebration.
Kwanzaa celebrates its 50th anniversary this year. The annual holiday was created in 1965 by Maulana Karenga, a California State University professor, to help African Americans connect with their African roots. It was first celebrated in 1966-67.
It is now celebrated by millions, mostly in the U.S. Even President Barack Obama and his wife, Michelle, issued a statement Saturday commemorating Kwanzaa, which includes a candle being lit each night of the celebration.
"Michelle and I extend our warmest wishes to families across the country celebrating Kwanzaa this holiday season," the Obamas said. "Today begins a weeklong celebration of African-American heritage and culture through family and community festivities. . . And in the spirit of the season, we reflect on the blessings of the past year and commit to building a brighter future for all our children. As families, friends, and neighbors come together today to light the Kinara, our family sends our best wishes for a happy and healthy new year."
Kwanzaa is derived from the Swahili phrase, matunda ya kwanza, meaning "first fruits of the harvest." It uses values called Nguzo Saba, the "seven principles of African Heritage."
On Saturday, the day the Bronzeville Children's Museum held its celebration, the Kwanzaa principal of Umoja was recognized, which means unity. The other principles are Kujichagulia (Self-determination); Ujima (Collective Work and Responsibility); Ujamaa (Cooperative Economics); Nia (Purpose); Kuumba (Creativity) and Imani (Faith).
Peggy Montes, founder of the Bronzeville Children's Museum, has hosted Kwanzaa celebrations for nearly two decades and said the celebration is now as important as ever with all the problems affecting the black community.
She said the celebration had even been smaller in recent years, pointing out it was just 90 people who participated in the event one year.
"I think it went down because some people lost interest in their history and culture," said Montes, founder of the Bronzeville Children's Museum. "Some people think their history is only up to slavery. They don't want to go beyond that. . . We here try in our own little way to keep our history alive. It is important that we focus on something like Kwanzaa."
Silvain Songo, who attended the museum celebration with his three children, said he enjoys celebrating Kwanzaa.
"It is a way for African-Americans to connect with Africa," said Songo, who was reared in Camaroon but now lives in the city's Woodlawn neighborhood.
Jamila Onyeali, president of the Bolozi Wazee Council of Elders, which is putting on a Kwanzaa celebration with the DuSable Museum of African American History, said she tries to insure that the integrity of Kwanzaa "is preserved" by insuring Kwanzaa principles are used during celebrations.
"There are a lot of things that people do that are not necessarily tied to Kwanzaa," she said. "But I think [Kwanzaa] is a feeling of unity of connecting with their roots. . . Talking with your elders and children are learning their history… It helps you to focus… I think you can feel it."
A continuing Kwanzaa event will be held today at noon at the DuSable, 740 E. 56th Pl., Chicago. The celebrations at the DuSable include, writer Useni Perkins, actress/director Val Grey Ward and historian Timuel Black.