Rauner Vetos Marijuana Bills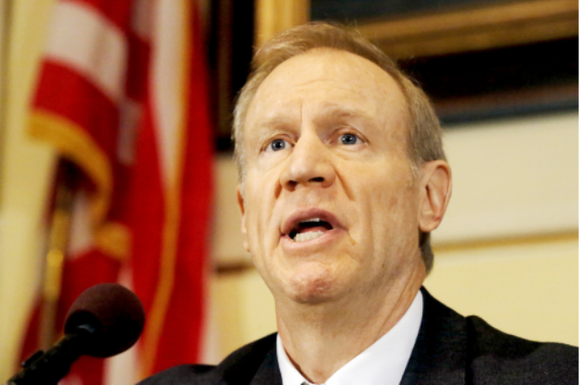 Last week, Ill. Gov. Bruce Rauner used his executive powers to veto a pair of bills that together would have, decriminalized and increased fines for individuals caught by law enforcement with small amounts of marijuana and extended the state's medical cannabis pilot program.
State lawmakers sent Rauner HB0218 and HB3299. HB0218 would've fined those caught with up to 15 grams of marijuana between $55 and $125. The governor kicked the bill back by lowering the threshold to 10 grams while increasing fines to between $100 and $200.

HB3299 would've extended the use of the Medical Cannabis Pilot Program Act until April of next year.
The Republican governor told reporters, "I support the fundamental purposes" of the decriminalization bill. He also called the criminal prosecution of marijuana "a drain on public resources." He went on to say, "Any change must be made carefully and incrementally."
According to the Ill. General Assembly's website, HB0218 would result in a decrease of 115 inmates and would save the state over $29,000 in projected costs over the first ten years after the bill goes into law.
Ill. Sen. Kimberly A. Lightford (Dist.-4th), one of 11 state senators to sponsor HB0218, says that the Ill. Black Caucus, along with their Democratic colleagues in the Ill. General Assembly, wants to make sure the bill gets done sooner than later.
"There was a committee that was to make some significant reforms to the juvenile justice system and the criminal justice system. Members of the Black Caucus were very involved in a lot of the decision making," Lightford says. "I'm sure they [Rauner] had various reasons why they lowered the amount. Marijuana usage shouldn't always lead to jail time. Maybe there could be substance abuse classes required. "
The state senator from Maywood believes that lack of funding could have been the reason for the governor's veto.

"When I look at the governor's changes that he vetoed, for him to want to increase the penalties, maybe they need more funding. I'm not exactly sure why he couldn't be satisfied with the work the legislature had done."
In May of this year, state senate lawmakers passed a bill banning arrests for small amount of the controversial drug.
HB218 was also sponsored in the State Sen. by Jacqueline Y. Collins (Dist.-16th), Napoleon Harris, III (Dist.-15th) and Kwame Raoul (Dist.-13th) among others.
HB3299 was sponsored by Ill. State representatives. Lou Lang (Dist.-16th), Kelly M. Cassidy (Dist.-14th), Ann Williams (Dist.-11th) and Esther Golar (Dist.-6th), and Ill. State senators William R. Haine (Dist.-56th), Iris Y. Martinez (Dist.-20th) and Donne E. Trotter (Dist.-17th).
Rep. Williams believes the governor missed an opportunity to help so many people across the state.
"I'm disappointed. The General Assembly decided that medical cannabis was a good option after talking to lots and lots of patients," Williams says. "Without the chance to extend the bill, I'm not sure we're going to get the opportunity to provide patients with medical cannabis as the law was designed to do."
When looking at who voted for and against HB0218, the Chicago Citizen Newspaper discovered many of the lawmakers who voted no, represent communities with low populations of African-Americans.
Sen. Lightford noticed the same. She went on to say that some of her fellow lawmakers in Springfield seem to only care about drug reform when it hits their constituencies.
"They are not supportive of many of the urban areas in the state. Sometimes, they don't understand the needs of our communities," Lightford says. "But when their kids got involved with the drug "meth," it became "We've got to do something." "Our communities and our trailers parks are being infested with meth." We need help with cocaine. We need help marijuana addiction."
Repeated attempts to Governor's Rauner's press office to get an update on HB0218 went unanswered.