Medical Marijuana Dispensary Discussed at CBA Monthly Meeting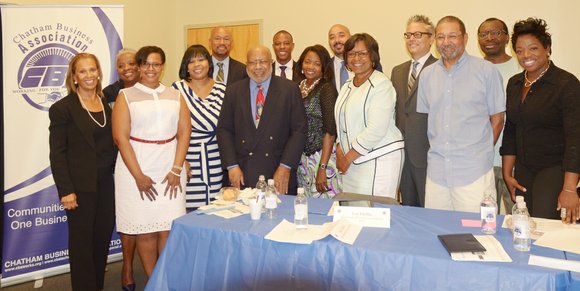 Should a medical marijuana dispensary be allowed to open and operate on Chicago's south side?
Members of the Chatham Business Association (CBA) and other concerned citizens chimed in on the controversial matter during the organization's monthly meeting on Tuesday at the QBG Foundation/Chicago Citizen Newspaper headquarters building, 806 E. 78th St, Chicago.
Attendees also received the chance to meet, greet and ask questions of the partners of Illinois Grown Medicine, LLC (IGM), a business group who has proposed opening a medical marijuana facility in the heart of Chatham, at 1111 E. 87th St.
Illinois Grown Medicine, LLC is owned in majority by African Americans.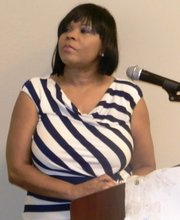 "An opportunity has presented itself to make medical marijuana legal in the state of Illinois and we as an organization have done a lot of research to understand the laws and regulations surrounding this opportunity," said Melinda Kelly, executive director of CBA. "So we have assembled a team today who will bring all of you up to date and to hopefully help you understand the benefits of this opportunity the way that we do."
Don Bransford, a self-proclaimed expert on Illinois' medical marijuana laws, spoke first during the assembly. Bransford, who lives in Chatham, is also a staunch supporter of the proposed dispensary opening there.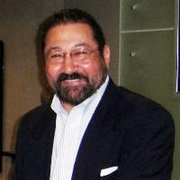 "This is not a methadone clinic. This is a retail facility and the laws specifically forbid people from using at the facility," Bransford said.
Bransford outlined the Illinois Compassionate Use of Cannabis Pilot Program Act, a bill that was introduced by Ill. Sen. Lou Lang (Dist.-16th) and Ill. Sen. Kwame Raoul (Dist.-13th) in Jan. 2013. The bill was passed by both Illinois legislative houses on May 17, 2013 and signed by then Gov. Pat Quinn on Aug. 2013.
The Illinois Compassionate Use of Cannabis Pilot Program Act states: "State law should make a distinction between the medical and non-medical uses of cannabis. Hence, the purpose of this Act is to protect patients with debilitating medical conditions, as well as their physicians and providers, from arrest and prosecution, criminal and other penalties, and property forfeiture if the patients engage in the medical use of cannabis."
"Are our neighbors as compassionate as our legislators were? Will their fear, uncertainty and doubt out way their neighbor's chance of an improved quality of life?" Branson questioned as he addressed the audience.
Ald. Michelle Harris (8th Ward), who attended the gathering and spoke clarifying her position on the proposed medical marijuana dispensary said, "This is a state layer process…the state wrote all of the legislation without a lot of input from people so now they say we can have medical marijuana…they have determined where medical marijuana can go."
Harris had previously been criticized by Chatham residents, for not attending public forums on the proposed dispensary.
"I am here as the Alderman, and as the Alderman, I'm going to fight for my community. I have a great history of listening to my residents and doing exactly what they ask me to do…I listen to my community and that's why I am the alderman for a third term. I am here to do the will of my community…if they don't want medical marijuana, Michelle Harris is going to go in front of the ZBA (Zoning Board of Appeals) and say we don't want medical marijuana in our community."