Head Start Marks a Half Century of Service in the U.S. this Summer
Recognizes name on manuscript. Understands letter forms, big and small. And colors, paints and pastes.
Those were some of the benchmark tasks I completed as a 5-year-old in the first year of the Head Start program in 1965.
I was just one of millions of low income children helped by Head Start. The program celebrates its 50th anniversary this summer.
When I attended Head Start in 1965, about 561,000 students were in the pioneering summer program nationwide for preschool and kindergarten aged children, according to the National Head Start Association. Programs were selected from nearly 3,000 applicants in 300 poor areas.

My father, Norman Parish Jr., was a struggling artist in those days.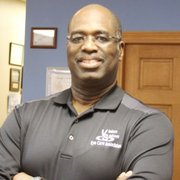 "Head Start is just what its namesakes says, it gives kids head starts," said Dr. Ansel Johnson, who attended the program the same year I did at Lincoln Memorial School, 3518 W. 139th St., Robbins, Ill.
Johnson, now 56, said the program made him curious about the world.
"It just opened up my imagination," said Johnson, who recalls having a terrarium in his class. "That terrarium made me interested in plants and other life forms. My curiously started to grow. I started to wonder what makes things grow. I became interested in biology."
He eventually got his bachelor's degree in biology from Illinois Wesleyan University in Bloomington. He received his doctor of optometry degree from the New England College of Optometry in Boston, Mass., in 1985.
Various groups named Johnson as one of the top black doctors in the U.S. His practice is in neighboring Blue Island.
Head Start is credited with helping children in many ways, including having better test scores and staying out of prison.
For example, among African-American children who attended Head Start in the 1960s-70s, a study found they were 12 percent less likely to be arrested or charged with a crime compared to their siblings.
Another study two years ago, even found that Head Start children in foster care were more ready for school than peers who didn't participate in the program.
Head Start, which strongly encourages parental involvement, also is credited with increasing parent involvement with their children.
Mary Hamilton was one such parent. She volunteered at Lincoln when I was in the program. She had a daughter, Marilyn Wood in Head Start.
She helped out with office work, furthered her education and eventually oversaw Head Start programs. Hamilton was involved with the program for more than 40 years.
"I helped complete the feasibility study [for Robbins]," Hamilton recalled. "Robbins was definitely eligible. The community was poor and had a lot of children who could benefit from the program."
In fact, according to Hamilton, there weren't any free kindergarten programs for youngsters in the predominantly black south suburb in 1965.
Robbins hasn't had a Head Start program based in its village for more than a year.
"This is a community that definitely could still use one," Hamilton said.
Head Start was among former President Lyndon B. Johnson's Great Society initiatives, designed to help eliminate poverty and racial injustice.
"Many children would not have access to quality education if it had not been for Head Start," said Jamilah R. Jordan, assistant dean of the College of Education at Chicago State University.
Today, the number of children participating in the program has nearly doubled to 918,000.
The annual budget is $8.5 billion, said Sally Aman, a spokeswoman for the National Head Start Association.
"That is still not enough," Aman said. "There are long waiting lists."
Head Start programs in Illinois are threatened by proposed state budget cuts and some programs that were among the first in the nation are threatened.
I became a journalist. I remember Head Start helping to teach me the alphabet and counting to 10.
Many of my former classmates are doing well.
I believe the Head Start is needed now more than ever. That is why, for the next few weeks, I will occasionally write articles about the Head Start program highlighting how it significantly impacted my life and the lives of some of my lifelong friends.