Sec. of State Jesse White Joined Suburban Mayors and Pastors for Donor Outreach Event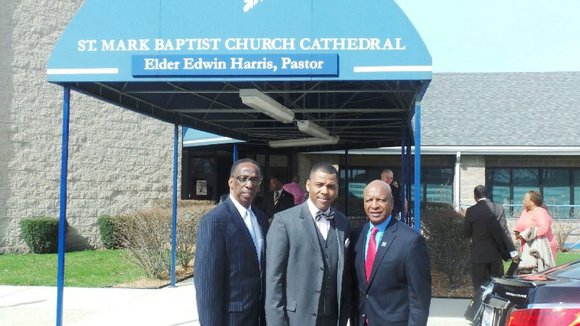 Ill. Sec. of State, Jesse White, on Sunday, joined south suburban Illinois pastors and Gift of Hope Organ & Tissue Donor Network representatives in recognition that April is National Donate Life Month and to further tout the organization's recently launched "Mayors of Hope" and "Churches of Hope" donor education and awareness campaign event held at St. Mark Baptist Church Cathedral in Harvey.
"I'm really impressed by the fact that (the south suburban mayors) they have a giving and caring spirit and want to help individuals in their communities have a better quality of life," said White.
A not-for-profit organ procurement organization, Gift of Hope coordinates organ and tissue donation and provides public education on donation in Illinois and northwest Indiana.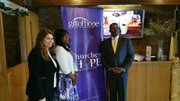 Pastor Ed Harris, of St. Mark Missionary Baptist Church, Jack Lynch, Gift of Hope's Director of Community Affairs; Marion Shuck, Gift of Hope's, Community Affairs Manager; Harvey Mayor, Eric Kellogg; Dolton Mayor, Riley Rogers; and Pastor Donald Luster, New Bethel Church in Harvey, took part in the registration drive where some of the people who came out for the event also signed up for organ donation.
Bishop Ernest Owens, First Pentecost Assemblies International Church said, "As you know, April is National Organ Donor Awareness month. Many houses of worship are coming together in the South Suburban area and are proud to participate in the Gift of Hope, Churches of Hope Campaign."
In addition to registration tables, fact-sheets on the need, and what families can do to start the dialogue about organ, eye and tissue donation opportunities were also available.
Over 150 Advocates for Hope volunteers and members of The Links South Suburban Chapter-- nearly 14,000 women dedicated to leadership, friendship and service--also support efforts at respective churches.
Gift of Hope started the campaign as "Mayors for Hope" earlier this year in March, spearheaded by Lynch and Shuck, who saw the need to raise the bar, especially in minority communities, regarding organ donation.
Shuck, who has emerged as one of the leading torch bearers regarding organ donation advocacy over the past few years said, "Turning tragedies into triumphs has become one of our mantras. Each day we see the rewards in the work we do, and it is now time for families to start the discussion." Shuck also emphasizes "healthy options" where individuals pay attention to their diet and their caloric intake. Obesity, diabetes and high blood pressure are among the main illnesses that can lead to kidney disease, which is the number one transplant need among minorities."
Nearly 7,000 people will die nationwide waiting for an organ transplant in 2015, 300 of whom are people registered for transplants in Illinois. An average of 18 people die each day while waiting, and every 10 minutes, a new person joins the national transplant waiting list. Today, a single organ and tissue donor can save the lives of more than 25 people.
For more information about organ donation, please visit the Gift of Hope Organ & Tissue Donor Network website at www.giftofhope.org.