Dick Gregory Booked for Two Shows at The Promontory Point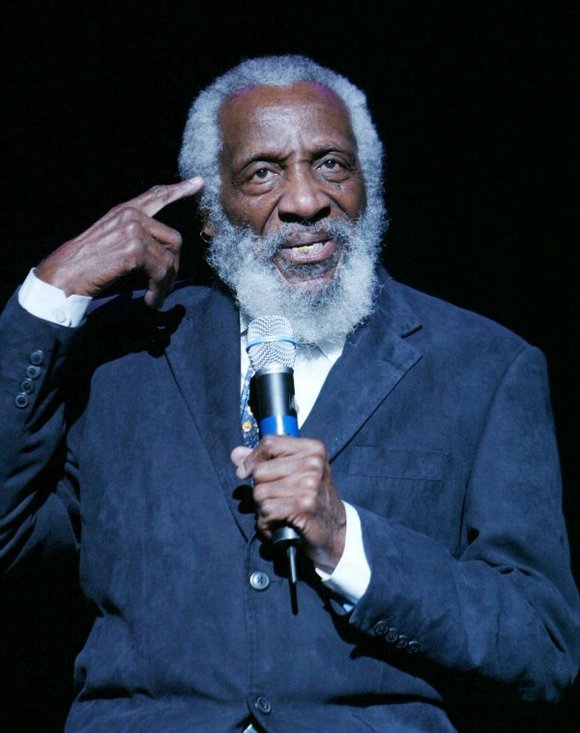 Easily described as a walking encyclopedia, author and former comedian, Richard Claxton, "Dick" Gregory, is known for his no-holds-barred discussions on politics, race relations, religion, conspiracy theories and other relevant topics. Now Gregory fans in Chicago will get a rare chance to hear the outspoken orator, this month during two shows at The Promontory, a new, dinner and music venue in Hyde Park, where he'll be discussing the recent Bill Cosby sexual assault allegations and the recent police shooting in Ferguson, Mo.
Gregory is scheduled to appear 8 p.m., April 18 and 19 at the Promontory, 5311 W. Lake Park Ave.
When asked how Gregory's appearance at The Promontory came about, Jake Austen, Talent Buyer/Music Venue Manager, at The Promontory told the Chicago Citizen Newspaper that, "It is an opportunity for our more mature patrons to become reacquainted with an old friend and our younger patrons to experience history firsthand. Dick Gregory is one of the greatest icons of the Chicago stage; his sets at the Playboy Club are legendary. We have been trying to get him booked since before we opened."
Gregory, 82, is listed on Comedy Central's Top 100 Stand-Up Comedians of All-Time, and in the 1960s helped bridge African-American comedy to Caucasian audiences.
Gregory's standup performances started while he was in the U.S. Army in the mid-1950s. Through the use of irony and satire, he held up a lens to American society and its racial stereotypes, using comedy and social action to address injustice and discrimination in American society.
A performance in 1961 at the Chicago Playboy Club launched his national reputation. Within a year, he played to sold-out audiences in nightclubs and became a popular television comedian.
In 1961, while working at the Black-owned Roberts Show Bar in Chicago, he was spotted by Hugh Hefner, performing the following material before a largely white audience:
"Good evening, ladies and gentlemen. I understand there are a good many Southerners in the room tonight. I know the South very well. I spent twenty years there one night. Last time I was down South, I walked into this restaurant and this white waitress came up to me and said, 'We don't serve colored people here.' I said, that's all right, I don't eat colored people. Bring me a whole fried chicken."
Gregory authored Nigger, published in 1963 as his first autobiography. The book was a best seller and has since sold more than seven million copies. He published a second autobiography, Callus on My Soul, in 1998.
Housed in a former Borders bookstore, and opened last year, The Promontory is named for Promontory Point, a scenic stretch of Hyde Park's lakefront where owners Bruce Finkelman and Craig Golden provide an opportunity for dinner-and-a-show. 
A portion of each ticket sale will be donated to the South Side Community Art Center, 3831 S. Michigan Ave. in Chicago.
Founded in 1940 by a group of African American artists and supported by the community, the South Side Community Art Center, celebrates its 75th anniversary this year. The Center, in 1994 was designated a historic land mark. Masequa Myers is the Center's new executive director.