Greater Englewood CDC and Blue 1647 Partner to Create Business Accelerator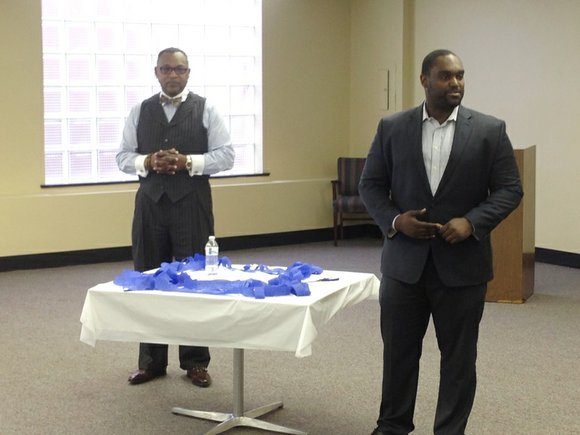 The Greater Englewood Community Development Corporation (Englewood CDC) and Blue 1647 have partnered to provide a technology based business development accelerator on the fourth floor of the US Bank building, 815 W. 63rd St. that will provide educational training, one-on-one consultation, and operational space to business owners.

The Englewood CDC is a 501c3 non-profit corporation created to address the stalled economic development within the Greater Englewood community.
"We're trying to bring some excitement; we're going to try to bring some pride back to Englewood," said Glen Fulton, executive director, Greater Englewood CDC. "I was born and raised here and this is kind of a legacy for me to bring this era back and technology will be the driver behind that."

Blue 1647 is an entrepreneurship and technology innovation center that fosters economic development in technology and 21st Century skills through classes, workshops, events that focus on technology and workforce development.
"This is an opportunity for both of our organizations to come together," said Emile Cambry, Jr., founder & CEO, Blue 1647. "They have a lot of community engagement and a lot of business support and we bring the technology piece. We bring it together so we have the best of business acceleration and also technology development so we'll be doing a lot of classes and workshops and events."
The accelerator will eventually be expanded to 25,000 sq. ft. that will include a commercial kitchen. Corporate sponsors US Bank and Citi Bank donated the space for the project.
"We want to make sure that we're not just Citi Bank supporting an entity but we would like to support a neighborhood," said George Wright, Midwest region director of community development, Citi Bank and Englewood CDC chairman. "We want to make sure that we're a catalyst to bring all of those entities together in terms of collaborative approach, in terms of where their sweet spots are, in terms of what they value and bring those sorts of pieces together to impact the community positively."
According to Fulton, Englewood CDC has also received a $200,000 grant that is earmarked for the project's staffing costs.
"Community lines don't separate the need... Englewood will be a hub for other communities to evolve through," said Ald. Willie Cochran (Ward 20). "This satellite will do exactly that; it will help our overall neighboring communities and those who have desires and dreams we'll help fulfill those dreams with good outcomes."
The accelerator will officially open on May 1 and there is a $25 a month fee for membership. For additional information visit https://members.townsqua.re/apply?location=blue1647.

"This is important to me personally because this helps bridge the gap from a fledging start-up to actually becoming a thriving business," said Rachel Bernier-Green, owner, Laine's Bake Shop. "We are in business to help restore the South Side of Chicago especially the Bronzeville, Englewood communities to what they were in their heyday."
To learn more visit http://www.greaterenglewoodcdc.org/.
To learn more about Blue 1647, visit http://www.blue1647.com/.