Pair Arrested in Connection to Northwest Side Convenience Store Robbery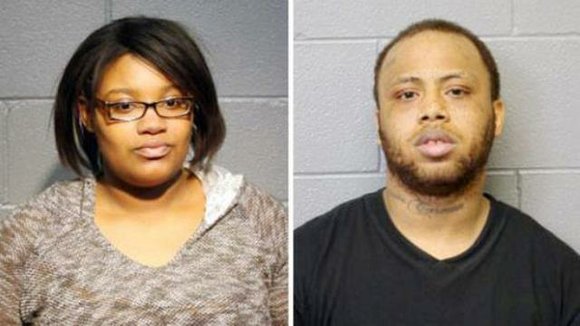 A man and a woman were arrested Friday after crashing their vehicle at a intersection on Chicago's northwest side, in an attempt to flee Chicago Police, reportedly after participating in a convenience store robbery on the 500 block of North Halsted Street.
Thomas Mitchell, 24, and Jamie Branch, 23, were arrested and charged after they allegedly were identified as two of four people participating in the armed robbery of the 7-Eleven store, 504 N. Halsted St., at about 2:55 a.m. on March 27.
Officers on routine patrol, according to the Chicago Police Department, were informed of a robbery in progress at the above location.
Upon arrival, police allege seeing the offenders robbing the establishment. The suspects allegedly fled the scene in a vehicle--with Branch as the alleged driver--that crashed into a viaduct at Grand and Cortland Avenues, where they then attempted to flee on foot. Thomas and Branch were subsequently apprehended and charged. Two other suspects in the robbery allegedly escaped on foot.
Thomas, of the 1400 block of East 72nd Street, was charged with one felony count of Robbery-Armed w/Firearm, two felony counts of Aggravated Battery/Use Deadly Weapon, one misdemeanor count of Domestic Battery-Bodily Harm. Thomas also faces a Domestic Battery charge on an unrelated incident.
During the course of the robbery, a 24 year old male employee allegedly was struck in the head with the butt of a gun and another 23 year old male employee sustained a laceration to the hand. Both victims were listed in good condition.
Branch, of South Bend, Ind., was charged with one felony count of Robbery-Armed w/Firearm, two felony counts Aggravated battery/Use Deadly Weapon.
The pair appeared in Central Bond Court, 2600 S. California on Saturday.
Judge James R. Brown ordered Branch, held in lieu of $250,000 bail and Thomas, held in lieu of $400,000 bail, according to the Chicago Tribune.
As for the amount of money taken in the robbery, Chicago Police Officer Bari Lemmon would not confirm, citing the ongoing investigation of the case.
Two additional male offenders are still being sought in connection to crime.