Members of the Ill. Legislative Black Caucus/Labor Union Endorse Chicago Mayor for Re-Election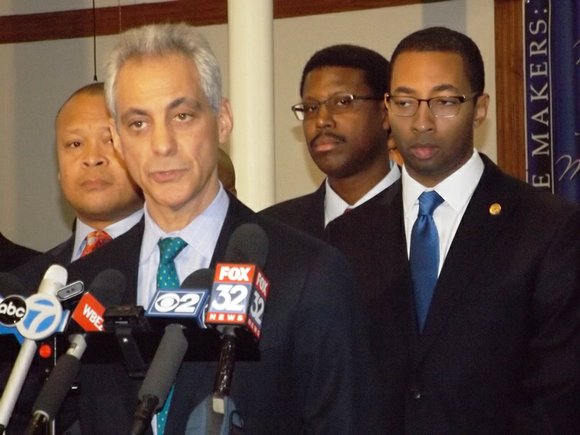 Rev. James Moody, Senior Pastor of Quinn Chapel African Methodist Episcopal Church in Chicago, welcomed Chicago Mayor Rahm Emanuel and members of the Illinois Legislative Black Caucus and the Laborers' International Union of North America-Local 1001 to the historic church, 2401 S. Wabash, on Wednesday for the announcement of the groups' endorsement of the mayor in the April 7 runoff election against Cook County Commissioner Jesus "Chuy" Garcia.
Discussions however, quickly turned to the Chicago Police Department's first quarter 2015 crime statistics showing overall crime down while homicides and shootings increased.
Prior to focusing on the recent crime statistics, Ill. State Rep. Ken Dunkin, (Dist.-5th), chairperson, Ill. House of Reps. Tourism and Conventions Committee said, "The mayor is a man with a vision for the city. We need someone battle-tested to deal with legislators in order to put Chicago on top when it comes to jobs for the city and help Chicago have an international reach."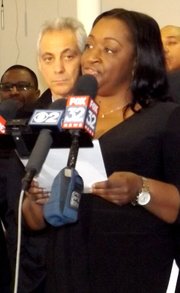 Dunkin in the past has openly criticized Mayor Emanuel and has called for the dismissal of Chicago Police Superintendent, Garry McCarthy, saying, "After three years now, this mayor and this so-called chief of police can't figure out what the hell to do (about the city's crime problem). The least the mayor could do is terminate (McCarthy) immediately and get a superintendent who knows this city and is moving toward some strategies that will save it."
When asked Wednesday about his criticism of the mayor and McCarthy, Dunkin said during the endorsement press conference that he was openly critical of the mayor but that in terms of the current choices for mayor, there's only one.
"It will take the Black community playing a stronger role in addressing crime and make sure we're not hiding criminals," Dunkin said, adding that he feels the mayor has grown and is more engaged and that the city needs someone who can deal with its financial issues.
As for his stance now, regarding McCarthy being qualified to deal with Chicago's crime problem, Dunkin said he will follow the mayor's lead.
The mayor said if elected, he would retain McCarthy and added Springfield has to step up to deal with the guns coming into Chicago.
The Chicago Police Department on Thursday provided the Chicago Citizen Newspaper with the latest statistics that show for the first quarter (first three months) of 2015, with 18 more murders, 107 more shootings and 101 more shooting victims compared to 2014. However, Chicago has seen 281 more illegal guns confiscated 145 more arrests for illegal gun possession, and 623 fewer overall crimes.
When asked to address the troubling statistics, Mayor Emanuel said, "Yes, homicides are up and shootings are up… gun seizures are (also) up. We've seized guns more by, I think, 20-to-25 percent. Overall crime is down. I'm proud of that number. But, I'm not proud of the more important number that affects the quality of life."
Ill. State Rep., Christian Mitchell (Dist.-26) said members of the Black Caucus supports the mayor because of the city's lowered penalties associated with the illegal sale of cannabis.