U.S. Sen. Dick Durbin and Illinois State Historical Society to Host Maya Angelou School Rededication Ceremony
Lee Edwards | 9/17/2014, 4:04 p.m.
On Monday, Sept. 22, Harvey Public Schools District 152 will rededicate the Maya Angelou Elementary School at 15748 Page St. in Harvey Ill. The school was formerly known as Waldo Emerson Elementary School before being renamed on Friday, September 22, 1995 in honor of Angelou's legacy. At that time, Dr. Angelou was present for the event.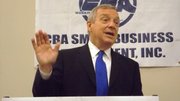 "[Maya] Angelou's contribution to the Civil Rights Movement, education, and art proved that her crowning achievement was empowering young Americans to stand up to injustice and have the courage to address the greater issues facing our nation, even when it may be difficult," said U.S. Senator Richard Durbin (IL-D).

Born Marguerite Johnson in St. Louis, MO on April 4, 1928, Dr. Angelou was a world-renowned poet, educator, historian, best-selling author, actress, playwright and civil-rights activist. Probably, best known best for book I Know Why the Caged Bird Sings (1969), Angelou was an iconic and inspirational figure spanning across all demographics for generations across the globe. She passed away on May 28, 2014 at her home in Winston-Salem, NC.
"As a poet she encouraged the love of language throughout the world," said William Furry, Executive Director of the Illinois State Historical Society. "As an actor, she taught us to see beyond ourselves. As a humanitarian and human rights ambassador, she taught us to care about and for the less fortunate. And as a woman of great courage and strength, she teaches us still to be a people of strength and courage."
Dr. Angelou's grandsons, Colin Johnson and Elliott Jones, will be among the several dignitaries and elected officials who will attend the ceremony.
"She [was] an iconic figure who will inspire students to achieve for many generations to come," said Dr. Carol L. Adams, President/CEO of The DuSable Museum of African American History.
The Washington DC Smithsonian National Museum of African American History and Culture (NMAAHC) has been requested to review the artifacts from Dr. Angelou's 1995 visit to the Angelou School in 1995.

For additional information contact Melvin Caldwell at (312) 907-7586.