Englewood/Woodlawn Peace Mural Gets Underway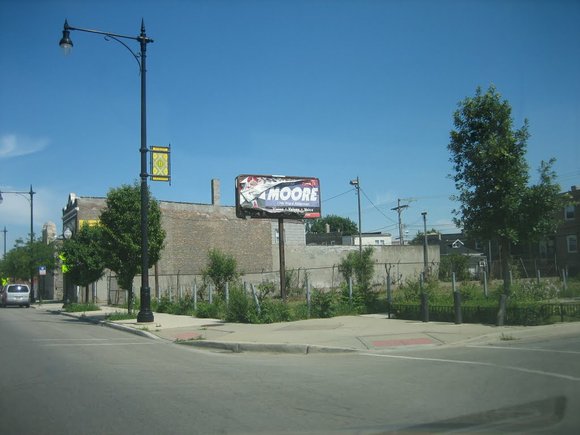 This past weekend, Englewood and other Chicago South Side mothers began creating what they're calling a "Peace Mural on the viaduct walls of 63rd Street and Wallace Ave. in Chicago, the 'gateway' between the Englewood and Woodlawn neighborhoods.

"Over time it became clear that while we face lots of issues as women, the safety of our children was an overriding concern", says Dede Koldyke, the founder and president of the EarthHeart Foundation which founded the Englewood/Washington Park/Woodlawn women's group.  "We've done marches, meetings – the mural will give everyone in the community a chance to participate and will be a permanent reminder of the possibility and importance of peace."
Construction on the peace mural began on Sept. 13 and is expected to be completed Oct. 2. Community Days, where members of the community are invited to participate in the construction of the mural, will take place the following Saturdays: September 13, 20, and 27.  Light snacks and refreshments will be provided by EarthHeart Foundation.
Founded on the idea that women have a unique perspective on and ability to solve challenges on issues of their neighborhoods, cities and lives, the EarthHeart Foundation brings together diverse groups of women to uncover their commonalities and address concerns together.
The mural's design is being prepared by the Green Star Movement, while additional support has come from 20th Ward Ald., Willie B. Cochran and Metra, as well as from individual donors through Kickstarter, a web based crowd funding campaign.
A non-profit organization, Green Star works closely with community youth, by getting them involved in the installation of artistic structures and images in the area they live in and also teaches them basic fundamentals of sculpture, mosaic, painting, and some construction techniques.
 The group's efforts are to combat the area's high crime image and provide constructive activity for the youth in the area.
Englewood ranks among the worst in the city for violent crimes even though it's said to be a heavily-policed neighborhood.
According to a CNN news report, neighborhoods like Englewood with poorer, less educated, residents and gang infestation problems -- have murder rates 10 times higher than other Chicago areas.