South Side YMCA Two-Year Renovation Unveiled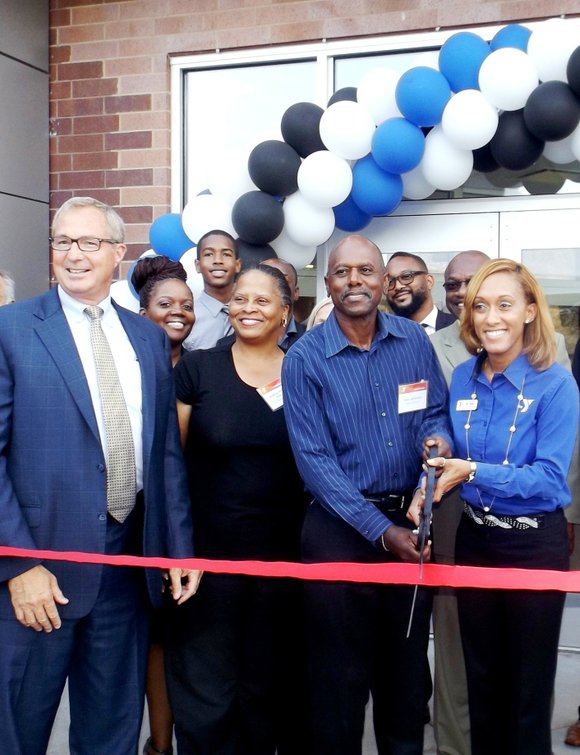 The YMCA of Metro Chicago unveiled $3.6 million in renovation s to its South Side YMCA (Y) facility located at 6330 S. Stony Island Ave., last Thursday. In celebration of the overhaul, the Y offered visitors tours of the facility, sample "work-out" classes and conducted a drawing for a one-year free membership.
First built in 1984, on a parcel of land chosen as a way to bring athletic and communal facilities to residents of the Woodlawn, South Shore and Hyde Park communities, the South Side Y, is the area's first full-service fitness facility.
"Thirty years ago, a bold decision was made by the Y and community leaders to build here," said Dick Malone, CEO of the YMCA of Metro Chicago. "Today, we're celebrating our multi-million dollar reinvestment in this community, and our intention to continue the good that happens at this south side institution."
Community input played a key role in the renovation process, according to Malone.
"Before we began investing in the brick and mortar of this building, we asked members of the Y and the broader community what they wanted to see happen here," Malone, said. "The ideas that emerged from those visioning sessions with dozens of people inspired us to approach the renovations as an extension of the legacy of this Y."
Dr. Leon Finney, Jr., President, Woodlawn Community Development Corporation, has an extensive history of involvement with the South Side Y, and was also involved in the planning process behind building the South Side Y.
According to its website, the Woodlawn Community Development Corporation aims to improve the economic and social well-being of the Woodlawn community, with an emphasis on low-income residents, by empowering them through education, advocacy and innovation.
"We first started working on the original facility back in the early eighties, planning with the Metro YMCA Board and convinced the City of Chicago to sell us the land," Finney Jr., told The Chicago Citizen Newspaper while touring the newly renovated facility on Thursday. "A commitment was made to put the facility here rather than build it in South Shore which was one of the plans. It's been up now for over 20 years but needed major infrastructure touch ups and so we were able to get Metro (YMCA of Metropolitan Chicago) to help us with major funding … and it's a wonderful thing.
Improvements include a new lobby with more community spaces and improved visibility for parents; a new Y Kid's Zone drop-in care for children, a new cycling studio and Yoga classes and a new and more secure entrance.
Ald. Willie Cochran (20th) and other YMCA board members were on hand for the celebration and unveiling along with several community leaders.
"I want to thank the Y, the staff and all the donors…it's a blessing to have this Y here in the 20th ward," Cochran said. "…thirty years ago, I was excited about it when it was built and I'm just as excited today. I also want to thank you for the community process that we went through to stress what we wanted to see in this location…We're glad about the (impact) the Y has had on the lives of people who took part in programs here. A lot of the young people have gone on to become successful."
In addition to the facility's improvements, the South Side Y also has a new executive director.
"We are so excited to debut our new facilities to our members and to the broader community," said Wendy Ellis, Ed.D., new South Side Y's executive director, appointed to her position in Oct. 2013, "For months, we have planned both physical and cultural changes at the South Side Y that, together, will allow us to provide this community with the kind of membership experience that is unexpected but deserved. We're ready to 'wow' people."
Each year, more than 200 youth ages 4 to 18 years participate in the Y's Youth Basketball Association and dozens of families utilize the drop-in child-care and pre-school programming. 
Programming also include, after-school acting workshops for teens, diabetes health classes for adults, swimming classes for children with autism, and much more.