Kurt Summers Chosen City Treasurer Neely's Replacement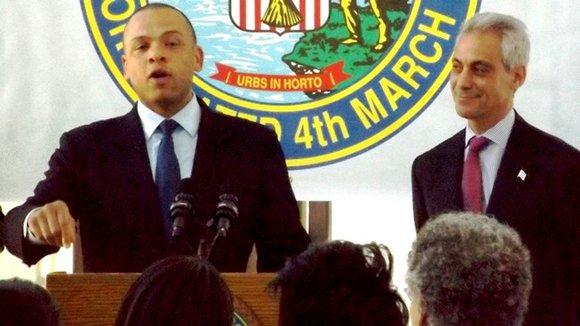 Pending City Council approval, Chicago Mayor Rahm Emanuel announced, Kurt Summers Jr., former chief of staff for Cook County Board President, Toni Preckwinkle, as the City of Chicago's interim Treasurer to replace current City Treasurer, Stephanie Neely who will leave Mayor Emanuel's administration Nov. 30 to start a new private sector job on Dec. 1.
Everybody who's anybody in Chicago politics turned out for the press conference announcement at the Harold Washington Cultural Center, at 47th and King Drive.

"I can't think of a better person with the experience and knowledge…This office comes with the responsibility of financial literacy, helping small businesses, making sure investments made on the pension funds are done with the efforts that (retirees) have a retirement system that they can rely on. Kurt Summers has the experience, the values, and the integrity we need of everyone who holds public office," Mayor Emanuel said. "I am confident that he will become a vital member of the city's financial team and help manage the city's investments effectively, efficiently, and in a way that promotes opportunity for every Chicagoan."
Summers' former Whitney Young High School math teacher, Gregory Wesley Mason, now principal at Murray Elementary Language Academy, 5335 S. Kenwood Ave., spoke during the announcement saying, "I remember thinking that Kurt might be asked by an important person to do something that was a perfect fit for his credit, reputation and character. Mr. Mayor, job well done."
Summers recalled and thanked all the mentors and supporters who encouraged him throughout his life and thanked Mayor Emanuel for his leadership and friendship.
"I'm humbled an honored by this opportunity to serve as the next City Treasurer," Summers said as he thanked Preckwinkle and U.S. Congressman, Bobby Rush (Dist.-1st), whom he especially thanked for his first official job in public service.
He also thanked family, friends and Neely for her personal support as he prepares for his role as Treasurer and also for her service to Chicago.
"I was born and raised on the South Side and grew up right across from the Harold Washington Cultural Center. My mom still lives around the corner. I love this city. I'm so proud that the greatest city on earth is my hometown."
Summers also mentioned his grandfather, the late Sam Patch, a community leader and activist and close friend to the late, Chicago Mayor Harold Washington and added that while he had great mentors, too many young people in Chicago do not.
"Today I can tell you without equivocation that it would be my mission to invest our financial capital in the future of youth in our Chicago. …this will take our collective efforts, time and talents to accomplish this goal but I have a plan. If we effectively utilize and mobilize our capital, we can invest in the type of economic development and job creation that can impact every single neighborhood in Chicago. I'm committed to having long term impact on our city which means I'll need more than a few months to do the job. I intend to run for City Treasurer and feel confident that I'll have the support of the people of Chicago."