BISHOP LARRY D. TROTTER GOSPELS COMEBACK KID CELEBRATES MULTIPLE ANNIVERSARIES!
10/22/2014, 4:53 p.m.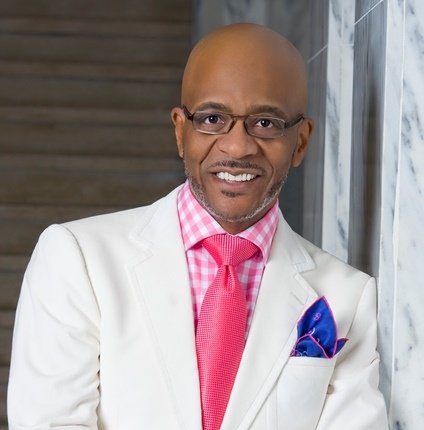 The month of October is a busy month for Bishop Larry D. Trotter, Senior Pastor of Sweet Holy Spirit Church of Chicago, and Presiding Prelate of New Century Fellowship Churches, Inc. Trotter is celebrating 40 years of preaching the gospel, 33 years as senior pastor of Sweet Holy Spirit Church, and 21 years as a Consecrated Bishop. There has been a month long celebration going on at Sweet Holy Spirit Church located at 8621 S. South Chicago Avenue.
This celebration will come to a close Sunday October 26, 2014 at the church. Guest speakers will be speaking at all 3 morning services. The guest speaker during the 7:30 a.m. is Pastor Anthony Tyler, of Chicago; 9:30 a.m. Bishop James Dukes of Chicago; and 11:30 a.m. the guest speaker will be Bishop Larry D. Trotter, with the theme of "How To Encourage Yourself".
Bishop Trotter has a heart for the people of God and a burning desire to build the kingdom. When Trotter was called to SHS in 1981, there were 22 members, he built the church to over 8,000. However, during Trotter's sickness and near death experience, the membership of the church dropped off to under 1,000 members. When Trotter returned to the pulpit her began the building process all over again, and has built the membership back to over 6,000 presently, and the church is continually growing adding souls every week.
Bishop Trotter has authored and published 6 books and recorded 7 award winning gospel projects on both Tyscott Records and his own label Utopia Music Group. Bishop Trotter was very instrumental and worked tirelessly in the election of the firs african american mayor in the city of Chicago, Mayor Harold Washington, and instrumental in the election of the first african american President of the United States, Barack Obama. Trotter continues to be a community activist by getting involved in movements that affect the community and affect us morally. Recently Trotter was involved in the Pro-Traditional Marriage Movement, urging lawmakers to vote against redefining marriage in Illinois.
In July of 2012 Trotter launched New Century Fellowship. Since it's launch, Trotter has expanded the fellowship internationally, with churches in the United Kingdom. Bishop Larry Trotter does not take this new ministry assignment lightly and is excited to share with connected churches.
"I'm excited about using 35 years of ministry experiences to now have the opportunity to pour into new or smaller churches. I believe my kingdom assignment is to build a fellowship where we minister and mentor churches and pastors who have experienced "church or denominational hurt", says Trotter.
On December 24, 2013 Bishop Larry D. Trotter married Lady Mildred Andrea Trotter. Together they are the parents of 10 children. Most people love comebacks. Bishop Larry D. Trotter is the gospel industries come back kid, bouncing back to higher heights. A fresh anointing, a new fellowship, a great church and a new wife, Trotter is positioned for even more greatness.