Low Turnout for Harold Washington Legacy Committee Voter Registration Drive
10/8/2014, 4:07 p.m.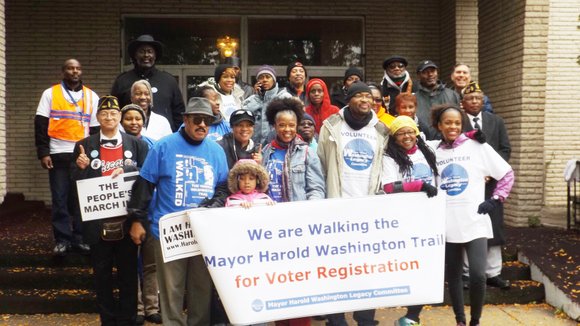 The cold, rainy morning may have accounted in part for the low turnout for The Mayor Harold Washington Legacy Committee's (MHWLC) voter registration walk and rally this past Saturday; voter apathy may also have played a role.
Founded in 2013 as an educational and civic engagement entity with the purpose of preserving the legacy of the late Chicago Mayor Harold Washington, the Committee held the event out of concern that voter registration currently is at an all-time low—especially among young people.
In an effort to generate community interest by connecting the event to the historic 1982 "Come Alive October 5" Voter Registration Drive that launched Washington's Mayoral campaign and garnered more than 200,000 new registered voters, under this year's theme, "LET'S DO IT ONCE MORE ON OCTOBER FOUR," stations were set up along various walk routes that started at 1700 E. Hyde Park Boulevard and ended at Bethel AME Church, 4440 S. Michigan where politicians, volunteers and local celebrities gathered.
"Harold Washington launched his campaign at this church," said current pastor, Rev. Willie Gohlston as he waited for the walkers and other participants to arrive for the rally that started at 1p.m. "This is one of the hallmark churches for political rallies. I felt it was important to hold this event here. It's also important for every generation to know the legacy of Mayor Harold Washington."
Both current Ald. Pat Dowell (3rd Ward) and former Ald. Dorothy Tillman (3rd Ward) were on hand for the event.
Dowell said Tillman was a great alderman and thanked her for her contributions to the third ward and also spoke about Tillman's work with Harold Washington.
"We need unity, resources, love and action. I think this is the beginning of something great to come. I want you to know that we love you here in the third ward," Dowell said as she thanked the Legacy Committee for mobilizing.
Tillman thanked Dowell for her "kind words" and added that Rev. David C. Coleman, Bethel's former pastor was very involved with the movement to elect Harold Washington.
"Harold was one of the greatest mayor's we've ever had," Tillman told the few people who came out for the event. Harold opened the city for all people and his staff reflected the city. He was a fair mayor. Just because a lot of people didn't come out, your efforts are not in vain."
Rev. Coleman was pastor of Bethel AME from 1974-1989 and was very involved in the Harold Washington movement.
"A lot of churches were afraid to hold political meetings during the Mayor Jane Bryne's administration, said Coleman as he shared stories from that time. "Chicago Black United Communities launched the drive to elect Harold from this church."
Bethel church member, Luster Jackson arrived early for the rally.
"I'm here to help celebrate Harold's legacy," said Jackson. "I knew Harold for 33 years before his death. The previous pastor of this church believed in combining liberation with theology. Harold's father was an associate member here. This event is important because we have to empower the people because there is a lot of voter apathy because we've had a couple of generations who felt they were free. We have to convince them that if we don't continue to fight for the gains we've made, we will lose them. The battle is not won."
Event walkers, Dr. Gabrielle Barber, a Family Practice physician and Charlita Fain, both runners, arrived at the church dressed in runners gear and white Legacy Committee tee-shirts.
"It's our exercise for the day in the name of a good cause," said Fain. "I was a kid when Harold was elected mayor…Today I can see the purpose and understand the importance of participation."
Actress, T'Keyah Crystal Keymáh of In Living Color fame, co-emceed the rally with event volunteer Wendell Mosely.
Tuesday Oct. 7 was the last day to register to vote in the Nov. 4th general election.