Experimental Station's Bike Shop Reaches Youth on Multiple Levels
Lee Edwards | 11/20/2014, 4:23 p.m.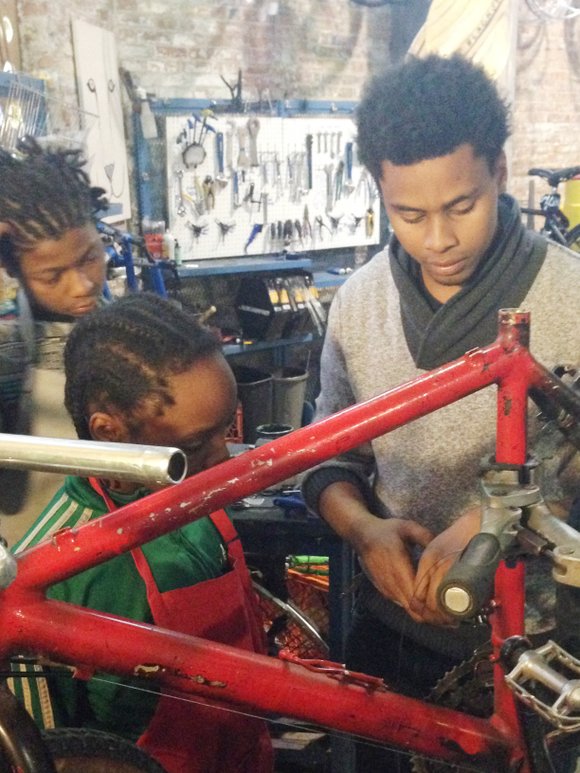 Housed at the Experimental Station's bike shop at 6100 S. Blackstone Ave. in Chicago, Blackstone Bicycle Works Program (BBWP) is a youth education program of the Experimental Station. It's a bike shop dedicated to promoting ecological practices and empowering youth, teaching mechanical skills, job skills, and business literacy to boys and girls from the underserved Woodlawn neighborhood and Chicago's broader south side.
The BBWP began in 2006 and is the Experimental Station's first community engagement program for children and young adults.
The Experimental Station is an independent, not-for-profit organization that through grants, public/private donations produce lectures, exhibits, events, programs, and cultural projects for the community at-large.


During the school year, Tuesday through Friday, from 4 p.m. to 6 p.m. and on Saturdays from 10 a.m. to 1 p.m., BBWP participants are engaged in bike's shops day-to-day operations.
"The mission of program is to keep kids in school with educational things to teach them and [for them] to go outside of their boundaries that they set for themselves and achieve more and be successful," said Jamel Trig, a mentor with BBW who was also one of the first youth participants.

Trig, a U.S. Marine veteran, has been involved with BBWP since he was 14-years-old. Today, he serves the BBWP as a full-time mentor for both young boys and girls alike and as a bike repairman/mechanical instructor.
"We teach [the youth] how to manage a small business, how to do inventory, how to do marketing, how to talk to customers, customer support, all types of things," said Trig. "We incorporate the kids on every part of the shop down to the budget, doing fund raisers; these kids are intertwined with every single aspect of the bike shop. It gives them the idea that if [they] really want to be an entrepreneur and start my own bicycles shop [they] can."
A motivating perk for youth who are in the BBWP program, is the opportunity to earn their own bicycle.

According to Trig, after participants log 20 hours of bike maintenance and repair instruction time, they are then able to select a bike on the premises of which they can work on personally for an additional five hours before the bike becomes their own, free of charge.

The program also assists youth with their academic hurdles and with their personal lives.

"The program has grown every year since I've been here," said Aaron Swanton, BBWP youth program manager. "What's great for me to see is so many of children stay around. Trig, to start working with him when he was 16, now 24, is a young man, a youth mentor working through the program, staying connected, that for me has been a great experience and I think it's a good sign that things are moving forward."
Chicago has an ever growing bicycle economy; earlier this year, Bicycling Magazine ranked Chicago as the nation's second most "bike friendly" city in its biannual rankings. Currently, Chicago has more than 200 miles of on-street protected, buffered and shared bike lanes and more than 13,000 bike racks, and sheltered, high-capacity, bike parking areas at many CTA rail according to the City of Chicago. The Chicago Streets for Cycling Plan 2020 calls for a 645-mile network of biking facilities to be in place by 2020 to provide a bicycle accommodation within half-mile of every Chicagoan.
For more information about the Experimental Station and Blackstone Bikes visit http://www.experimentalstation.org/.