NBC scraps Cosby television project
11/19/2014, 5:01 p.m.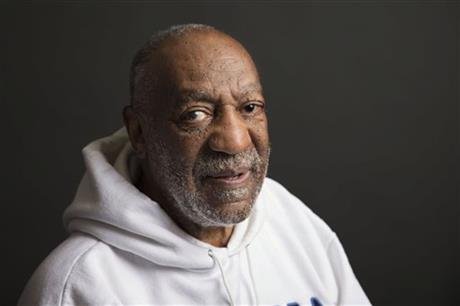 NEW YORK (AP) — NBC has scrapped a Bill Cosby comedy that was under development, the second outlet within a day to put off or abandon a project involving the long-beloved comic as a sexual assault scandal continues to spiral around him.
NBC spokeswoman Rebecca Marks said Wednesday the Cosby sitcom "is no longer under development."
Both the NBC sitcom and Netflix' Cosby standup comedy special, which has been indefinitely postponed, were halted within a day after actress Janice Dickinson, in an interview with "Entertainment Tonight," became the third woman in recent weeks to allege she'd been assaulted by Cosby — charges strongly denied by the comedian's lawyer.
The developments, which involve allegations that were widely reported on a decade ago as well as new accusations, have threatened the 77-year-old comedian's reputation as America's TV dad at a time when he was launching a comeback. A year ago a standup special — his first in 30 years — aired on Comedy Central and drew a hefty audience of 2 million viewers. His prospective new series was announced by NBC in January.
Cosby has never been charged in connection with any of the allegations; Former Pennsylvania prosecutor Bruce L. Castor Jr., who investigated a woman's claims that Cosby had sexually assaulted her in 2004, said Wednesday he decided not to prosecute Cosby because he felt there was not enough evidence to get a conviction.
"I wrote my opinion in such a way as I thought conveyed to the whole world that I thought he had done it, he had just gotten away with it because of a lack of evidence," the former Montgomery County district attorney said.
If Cosby hadn't been cooperative with the investigation, "I probably would have arrested him," he said.
Cosby has continued working as a stand-up comic, and has at least 35 performances scheduled throughout the U.S. and Canada through May 2015. None of the performances has been cancelled.
At one of the venues, the Sandusky State Theater in Sandusky, Ohio, there's been no negative feedback, said David L. Taylor, the site's executive director. There's been one query from the community about whether the scheduled Jan. 30 performance is still on.
"If the show were to cancel, everybody would obviously get full refunds," Taylor said.
The Smithsonian's National Museum of African Art has not changed its plans for an exhibition featuring Cosby's African-American art collection alongside African artworks. The show opened this month on the National Mall and is scheduled to remain on view through early 2016.
"The exhibition has been very well received. We've actually had record numbers through the door," spokesman Eddie Burke said, adding the museum has had no complaints.
Cosby was asked about the growing furor by an AP reporter when he was promoting the exhibit earlier this month.
When the AP interviewed Cosby, on Nov. 6, the story involved long-circulated accusations from several women and recent criticism from comedian Hannibal Buress. Cosby declined to comment, saying "We don't answer that."
The AP mentioned the allegations and Cosby's decision not to comment at the end of its story, which, like the interview, was primarily about his donation of more than 50 artworks to the Washington museum.