Voters Turnout for South Side Mayoral Candidates Forum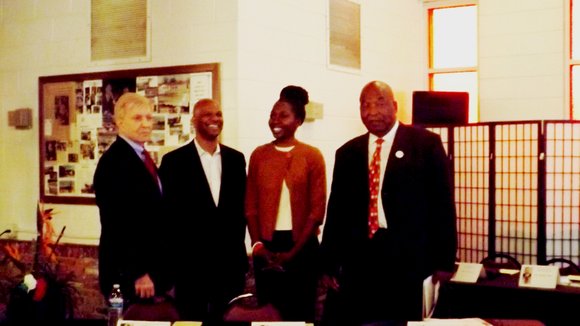 Chicago Mayoral candidates Dr. Amara Enyia; Ald. Bob Fioretti (2nd Ward); former Cook County Commissioner, Robert Shaw; Chicago police officer, Frederick Collins; community and political activist, Bill "Doc" Walls, put their best foot forward on Saturday, during a mayoral candidates forum put on by Probation Challenge, a youth advocacy organization and the South Shore Gardens Betterment Association, a community advocacy group, at the St. Paul Community Development Ministry, 4550 S. Wabash Ave.
Chicago Mayor Rahm Emanuel did not attend the well-attended event, leaving some, audience members calling his absence "disrespectful" to the African American community.
Panelists included Chinta Strausberg, editor, 3:16 Magazine, Art Norman, formerly of WMAQ Channel 5 News and Juanita Bratcher, editor/publisher, Copyline Magazine.
With Chicago's crime leading the news headlines, candidates were asked if they felt whether or not the addition of bike cops in various neighborhoods would help bring crime down, specifically gun violence.
Walls replied, saying he was raised in Chicago and is committed to the growth and development of Chicago and that people feeling safe anywhere in the city is critical.
"Our police department is reactionary and not proactive. We don't have police officers sitting around our parks and schools…places where people are most vulnerable, where our children are most at risk. So it helps to have beat officers walking around getting to know the children in the neighborhood so they're not seen as the enemy and police are not so quick to pull the trigger when a child gets out of line. But the problem in Chicago is that we have too many police officers on desk duty, sitting in the safety of those offices at the police station…we need to get them off of desk duty, we want them on the streets," Walls said.
Fioretti said all of panelists are running for mayor because of the love they each have for the city.
"I do believe in bike patrols and advocated that several years ago and Rahm Emanuel is going through a playbook of what I said from seven years ago to yesterday, trying to take more things out of what we've talked about," Fioretti said. "We need to hire more police and police from our community that are educated on the complexities of what we do but that's only one small portion. We need to reopen our mental health clinics. We need to raise the minimum wage in the city of Chicago to $15 an hour instead of $10 an hour. We need to make change substantively by bringing jobs in."
Enyia stressed the difference between violence and policing during her address on crime.
"Violence and policing are two different things. We have to decide that at this point, we are going to get to the root causes of violence if we want to reduce violence. Dealing with violence is one of the things the city has not done well," Enyia said. "When our schools are closed that's a disinvestment…when we see the number of vacant and boarded up houses, that's disinvestment. Those are the conditions that lead to violence. When people are not able to work and young people have no afterschool programs or employment programs, what else will they do with their time? The key to reducing violence is making those necessary resource investments in the community. It's not necessarily whether police are on bikes, on foot or at a desk, but it's a question of training, diversity…do they reflect the makeup of the community and do they understand the community?"