Muslim Hijabi Hipsters Fusing Fashion with Faith
Associated Press/Aya Batrawy | 11/6/2014, 12:32 p.m.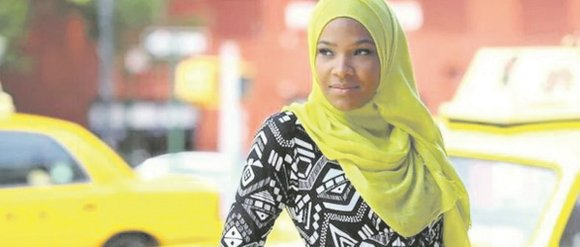 Fashion-conscious Muslim women from Kuala Lampur to Los Angeles who wear the Islamic headscarf, known as the hijab, have had to get creative.
By fusing both their sense of fashion with their faith, this growing group, some of whom have dubbed themselves hipster hijabis, is reinterpreting traditional notions of what it means to dress conservatively. They're spawning a new market for niche fashion brands and finding unexpected supporters among some mainstream brands, as well as from conservative Christian and Orthodox Jewish women who also dress modestly.
"We want to be current in fashion and adhere to the tenets of our faith," said Ibtihaj Muhammad, who owns Louella, a fashion brand catering to women who combine modest dressing with fashion.
The Los Angeles-based brand has sold nearly 4,000 pieces since its launch three months ago. Muhammad, a professional athlete and member of the United States fencing team, said she struggled trying to find long-sleeved, floor-length dresses to wear when she traveled on speaking tours on behalf of Team USA and the State Department.
Her line, which include floor-length sheer cardigans and dresses, ranges from $45 for a colorful, Picasso-inspired print cardigan to $100 for a pink lace, empire-cut dress. Though there are countless Muslim-owned companies around the world making clothes that cater to women who wear the hijab, many are selling traditional black-flowing robes known as abayas.
"I just got tired of spending money and chasing this idea of this perfect modest dress," she said.
Some mainstream designers also have started to cater to this growing demand for stylish modest wear. This summer, DKNY released a collection during the Islamic holy month of Ramadan that sold exclusively in the Arabian Gulf. Karl Lagerfeld also brought his Chanel Cruise Collection this year to Dubai, unveiling an array of designs inspired by the rich culture and patterns of the Middle East.
Still, the market is ripe for more investment said Albert Momdijan, founder and CEO of Dubai-based Sokotra Capital.
"The Muslim population is the second largest population in the world with roughly 1.8 billion people so it's a large population that you definitely cannot ignore. And 50 percent are below the age of 25," he said. "It's a young population, it's a growing population and it's a large addressable market."
The hipster hijabi movement is the byproduct of a young generation of Muslim women coming of age. It grew organically, spurred in part by social media, and continues to take on new meaning by the women who embrace it.
Summer Albarcha coined her photo-sharing Instagram account "Hipster Hijabis" in 2012, when the teenager from St. Louis, Missouri was just 16. She now has almost 23,000 people following her on Instagram. Her loyal following prompted New-York
based label Mimu Maxi, run by two Orthodox Jewish women, to send her one of their popular maxi skirts to model.
The collaboration caused a stir, with many Jewish customers blasting Mimu Maxi for featuring a Muslim woman in hijab. Albarcha says the experience only reaffirmed the universal struggle women of all faiths and backgrounds have when trying to find stylish conservative pieces to wear.