Community Calls Meeting to Address University of Chicago Police Department Conduct
Lee Edwards | 11/6/2014, 12:58 p.m.
The Campaign for Equitable Policing (CFEP), a movement comprised of University of Chicago (UC) students and residents who live near the UC , whose aim is to end racial profiling by the University of Chicago Police Department (UCPD), held a meeting where its members, and other community stakeholders shared experiences, grievances, and concerns based on their encounters with UCPD officers. at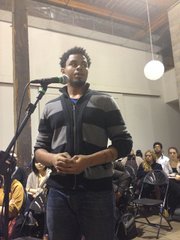 The meeting, which was held at the Experimental Station, 6100 S. Blackstone Ave. on Oct. 29.

was entitled, Community Hearing on Racial Profiling with the Invisible Institute.

Topics discussed included: UCPD's alleged aggressive racial profile tactics, UC's alleged lack of transparency and withholding of information that would be available under FOIA (Freedom of Information Act), UCPD officers training and the range of their jurisdiction.


Jamie Kalvin, an associate of the Invisible Institute, a Chicago-based journalistic production company, moderated the meeting.

"I think it's interesting on how coherent the conversation proved to be given that there were a lot of people participating in it," Kalvin told the Chicago Citizen Newspaper. "This is a private institution performing a major critical public function of law enforcement and ensuring public safety. It's just a fundamental principal in Democracy that with power comes responsibility and we invest tremendous powers in police officers, they have the ability to stop and detain people, arrest them, to use force, even deadly force under some circumstances, this is extraordinary powers and so in a Democracy you hold the police to a high level of accountability as public officials."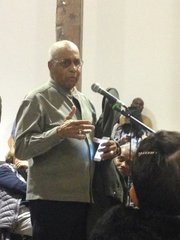 Jamel Trig, a Hyde Park native and U.S. Marine veteran, spoke of times he felt racially profiled by the UCPD.
"Some experiences I've had is [UCPD officers] following me from my work place to my home while I'm on a bicycle and I've been stopped on occasion, six times, twice on my bicycle, the rest of the time in my vehicle that I actually own just because I was driving while black," said Trig. "I would like transparency to happen so we could actually see and get the big picture of everything that [the University of Chicago Police Department] really does because at this point I consider them mercenaries."
Ironically, Trig also stated that the UCPD officers bring their bicycles to his bike shop for maintenance and repairs.
Rudy Nimocks, a 20 year UCPD police chief who also served 33 years with CPD, spoke during the meeting and with the Chicago Citizen Newspaper afterward.
"Law enforcement in contemporary society depends on ebbs and flows and sometimes police departments get into a certain strategy…people don't like it," said Nimocks. "An intelligent way to approach it is what we did here tonight, [to] have a community forum and we hear what you all are thinking about what the police are doing and then you try to be flexible enough to do whatever you need to do in order mitigate their concerns."
According to its website, the jurisdiction of UCPD officers is as far north as 37th St., as far south as 64th St., as far east as Lake Shore Drive and as far west as Cottage Grove Ave. UCPD officers take part in a 16 week training program at the Chicago Police Academy which is consistent with the requirements of the Illinois Law Enforcement Training and Standards Board (ILETSB). Upon completing the training, officers must pass a certification examination administered by the Illinois Law Enforcement Training and Standards Board and then complete 12 additional weeks of training as required by the UCPD Field Training Program.
For more information about the University of Chicago's Police Department visit http://safety-security.uchicago.edu/. For more information about the Campaign for Equitable Policing visit https://ucpd-reform.squarespace.com/.