Harvey Teacher Wins Golden Apple Award
Lee Edwards | 5/21/2014, 4:33 p.m.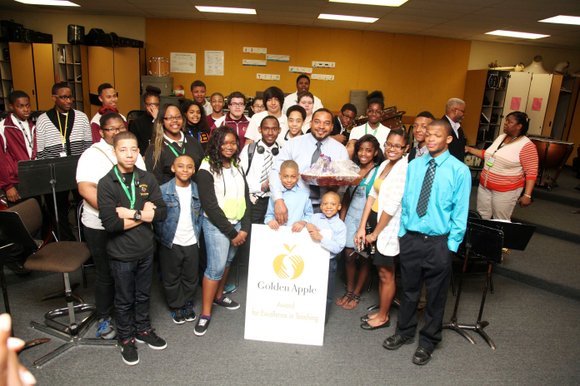 Harvey native, Roosevelt Griffin, has been selected as one of ten recipients to receive the 2014 Golden Apple Award for Excellence in Teaching. Griffin currently teaches at Gwendolyn Brooks Middle School, 14741 Wallace St., Harvey, Il, where he was once a student.
"To win was very overwhelming, very emotional, because at that point I was able to reflect on what the actual Golden Apple meant to me as Roosevelt Griffin but also to me being a kid growing up in Harvey, born in Harvey, and what it meant to all of those kids growing up in Harvey," said Griffin.

The Golden Apple Award is presented by Golden Apple, a non-profit organization that works to inspire, develop and support teacher excellence in Illinois, especially in schools of need. Golden Apple has been a leader in advancing the teaching profession in Illinois for 29 years. The Golden Apple award recognizes outstanding teachers for their role in helping build a strong, educated society. The 2014 honorees were selected from a pool of 620 nominations and 272 applicants that represented 4th – 8th grade teachers throughout the Chicago metropolitan area.
Griffin, who has been an educator for 10 years, wears multiple hats; he is the GBMS band director and oversees the jazz program and also is the District Band Director for Harvey School District 152. Griffin received his B.A. in Music Performance at Northern Illinois University (NIU) where he also received his Illinois Teaching Certificate in Instrumental Music

"I am proud and honored to have the pleasure of working with him," said Dr. Denean Adams, Superintendent of School District 152. "I think his character and hard work exemplifies excellence. I am excited and I know we see that in our students. He is a role model for them and he has helped them to grow and mature into becoming outstanding musicians and students."
"We are very proud of Mr. Griffin and his exemplary efforts with the students," said District 152 School Board President Janet Rogers. "The faculty and parents support him 100 percent."
"Mr. Griffin sees the good in all students and believes they all have untapped potential," said Frank Kuzniewski, Gwendolyn Brooks Middle School Principal. "He is kind, supportive, encouraging, cooperative, insightful, and caring. Mr. Griffin is the kind of teacher I would want my own children to have in a classroom."

Griffin told the Chicago Citizen Newspaper that he credits being recognized by the Golden Apple organization to his love for students saying, "It has been confirmed that the proper way to teach is out of love. Because I love you, I'm going to teach you correctly and make sure you get this information. At all times, the students are more important than the program."
Griffin also stated he spends time building relationships with students saying that quality time spent with students is just as important as classroom lessons. He also says that when a student finds it difficult to understand his lesson, he reconstructs his teaching method, approach and process to better suit that student...yet another way he inspires learning.
"I have students coming up to me and hugging and saying congratulations Mr. Griffin, telling me that they want to win the Golden Apple [Award] one day, little fourth graders," said Griffin. "I feel like I can represent those mothers and those fathers that feel like they don't have any hope. Now I feel like we have a voice, people may listen now and say there's some great things coming out of Harvey."
For more information visit http://www.goldenapple.org/.