Acclaimed Author Sam Greenlee Dies at Age 83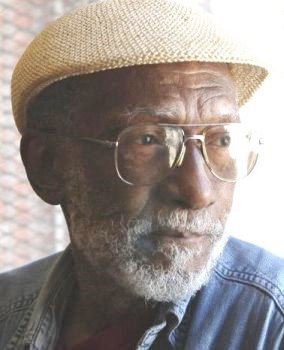 Acclaimed author, poet, film-maker, screenwriter, activist and playwright, Sam Greenlee, perhaps best known for his 1969 novel, The Spook Who Sat by the Door, died May 19 in Chicago at age 83.
Born July 13, 1930 in Chicago, Greenlee attended Chicago public schools and at age fifteen, is said to have participated in his first sit-in and went on to graduate from Englewood High School along with noted author, the late writer and playwright, Lorraine Hansberry, best known for her Broadway drama, A Raisin in the Sun.
After receiving a Bachelor of Science degree in political science in 1952, from the University of Wisconsin, Greenlee attended law school but later transferred to the University of Chicago, where he studied international relations from 1954 to 1957, according to historical accounts.
In 1957, Greenlee began a seven-year career with the U.S. Information Agency as a foreign services officer, serving in Iraq, Bangladesh, Indonesia and Greece, and was awarded the Meritorious Service Award for bravery during the Baghdad revolution in 1958.
Greenlee's prize-winning novel quickly became an underground favorite for its fictionalized urban-based war for African American liberation. Greenlee co-wrote the screenplay adaptation of the novel, and in 1973, The Spook Who Sat by the Door was released on film, an overnight success that was unexpectedly taken out of distribution.
Pemon Rami, director of Educational Services and Public Programs for the DuSable Museum of African American History, 740 E. 56th Pl., spoke to the Chicago Citizen Newspapers about Greenlee's legacy.
"Sam was committed to political, social and cultural change," said Rami who met Greenlee as a 17-year-old theater director in Chicago. "He told me that he'd developed a movie script for The Spook Who Sat by the Door and that he'd wrote, a role for me to play a character by the name of Shorty Duncan. I played the role and also did all the casting. When we shot the film, he didn't know it would have the impact that it had. The film was inducted into the Library of Congress," Rami said. "Here's a movie that was criticized for inflammatory (content) because it tells the story of the first Black CIA agent who was hired to sit by the door to let people know the CIA was (racially) integrated. The agent goes back to Chicago to train street gangs as a (Black) revolutionary army. The film is now registered as the most significant film of all time."
Greenlee has written numerous novels, stage plays, screenplays and poems. He moved back to Chicago after several years of voluntary exile in Spain and West Africa and hosted a radio talk show program.
He died in his sleep at his Chicago, Woodlawn home last week. He's survived by his long-time companion, Maxine McCrey, his daughter, Natiki Montano and his granddaughter, Nailah Montano, of New York.
A memorial is planned for 6:30 p.m., June 6 at the DuSable Museum.