"Companies That Care" Help High School Students Attend College
Lee Edwards | 5/14/2014, 4:39 p.m.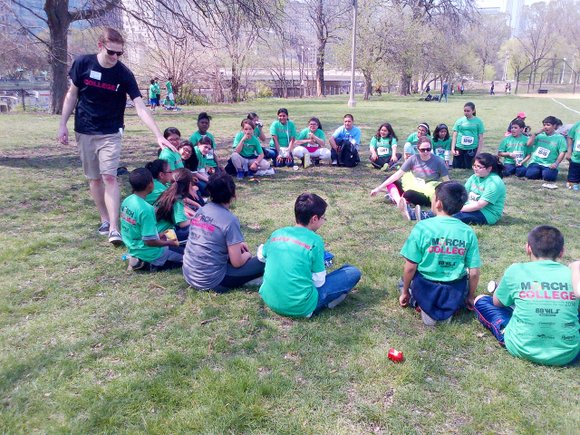 Companies That Care (CTC), a national not-profit organization, last Thursday held a 5K (equivalent to 3.1 miles) marathon fundraiser in Grant Park, 337 E. Randolph St., to benefit its programs that help Chicago Public School (CPS) students attend college.
According to its website, CTC is dedicated to ensuring social sustainability and improving the lives of individuals, families and communities. This is accomplished by educating and inspiring employers to support the needs of society as well as the profitability of the business.
The 5K March to College, as it was titled, was a daylong event for elementary school to high school students and included a college fair and musical performances. Representatives from the admissions departments of local and out-of-state colleges and universities were on hand to counsel students on the college entry process. Companies That Care President, Marci Koblenz, estimated 800 CPS students were in attendance.

"We know that the longer a student thinks about going to college, the more likely they are to attend," said Koblenz. "We think college is important because that provides the opportunity for families to rise out of poverty, to be able to get better jobs, and the good news is business want to be sure that they have a diverse work force and without those college graduates it's not happening when we look down the road."
The marathon benefited CTC's Aim High Program.
Aim High was launched in 2007 as a student mentoring initiative.
Participating companies commit a team of three to five representatives to serve as mentors to at least two students each and at least one mentor is required to attend every scheduled Aim High event. Throughout the year, Aim High produces career fairs, job fairs, and job shadowing programs for students.
"The Aim High Program has been at North Lawndale for a while in one version or another on between the two campuses," said North Lawndale College Prep Principal Nicole Howard. "One of the reason we continue that relationship, it improves the motivation level of the students and the understanding of what a college culture is like so with the additional support and attention that the students receive they feel far more comfortable with engaging in college conversations. We love our relationship with Aim High and it's something we want to cultivate and continue because we do see the benefit."
There are no specific academic requirements to be accepted into Aim High because according to Koblenz.
"We believe that with the right academic support any student can be college bound," Koblenz stated. What we would love to see is students in the program, go to college, come back to Chicago, work in Chicago [and then] get their employers involved and just create a network."
"It's nice seeing how far the program has gone since I started in it," said Angel White, an Aim High alum who currently attends Richard Daley College. "It's nice to see the progress and see that they're still motivating people to go to college."
For more information on Companies That Care, please visit http://www.companies-that-care.org/action/aim-high.