Broadway Sees Gains for Black Audiences, Actors
Associated Press/Mark Kennedy | 5/14/2014, 3:42 p.m.
Early one Sunday this month, 56 people boarded a bus in a suburb of Washington, D.C., to make the trip to Broadway to see a play.
The all-day trip was part of a fundraiser organized by members of the Alpha Kappa Alpha Sorority, the oldest African-American female sorority of college-educated women. People on the bus ranged from a child under 6 to grandmothers. There were veteran Broadway goers and theater newbies.
The bus was full — despite it being Palm Sunday — and the trip, which ended close to 11:30 p.m., was long. What would attract so many to make the trip north to see a matinee from the rear mezzanine on a religious holiday?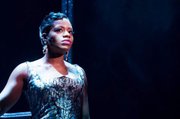 Five words: "A Raisin in the Sun." Actually, make that two: Denzel Washington.
"I think everybody enjoyed themselves. Everybody on the bus was pleased. They had a good time and thoroughly enjoyed the play," said Garlette Jordan, a federal worker and sorority member who helped plan the trip. "Of course, Denzel was the main draw."
With all due respect to Mr. Washington, it's not just him. This Broadway season has been rich with roles for African-Americans and audiences are responding, from the packed Brooks Atkinson Theatre, where the musical "After Midnight" celebrates Duke Ellington's years at the Cotton Club, to the overfilled Circle in the Square, where Audra McDonald is channeling Billie Holiday.
Black singers and actors are being featured all over Broadway stages, some in roles written for African-Americans, such as Terence Archie who plays a fearsome Apollo Creed in "Rocky," Joshua Henry as a black soldier in the musical "Violet," and Brandon J. Dirden as the Rev. Martin Luther King Jr. in the historical play "All the Way."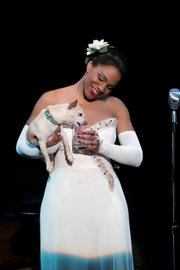 Others are in nontraditional black roles, like James Monroe Iglehart as the manic Genie in "Aladdin"; Nikki M. James playing Eponine and Kyle Scatliffe, making his Broadway debut as Enjolras, in "Les Miserables"; and LaChanze and Jerry Dixon in the new musical "If/Then." Earlier this season, Condola Rashad played Juliet opposite Orlando Bloom's Romeo.
"Not only is colorblind casting happening but you've got African-American pieces happening as well," said McDonald, who has managed to catch "After Midnight" twice despite starring in "Lady Day at Emerson's Bar & Grill." She added: "It's a very rich Broadway season, too. Not all seasons are this rich. There's something for everybody this year."
More is on the way. A musical inspired by the lyrics of Tupac Shakur called "Holler If Ya Hear Me" opens in June. And next month, a huge barrier will be broken when Norm Lewis becomes the Phantom in the megahit "The Phantom of the Opera," making him the first African-American to slip behind the famous mask on the Great White Way.
"I think it's the confluence of a lot of different things but clearly this year you've got a lot of high-quality work going on, both in the material as well as the execution and the performers. It's quite exciting," said Scott Sanders, who produced "After Midnight," which has starred Fantasia Barrino, Kenneth "Babyface" Edmonds, Toni Braxton and currently Vanessa Williams.