Jazz Greats to be Honored at Grant Park Jazz Festival
A Millenium Park celebration by Jazz Unites Inc. is planned in honor of the 115th birthday anniversary of the late, great, jazz musician, Kennedy "Duke" Ellington and the 40th anniversary of the first Duke Ellington tribute in Grant Park. The event will also honor Jazz "piano powerhouse" Willie Pickens.

Born April 29, 1899, in Washington, D.C., Ellington was a major figure in the history of jazz music with a career that spanned more than half a century, during which time he composed thousands of songs for the stage, screen and contemporary songbook. Ellington is credited with creating one of the most distinctive ensemble sounds in Western music and continued to play what he called "American Music" until shortly before his death in 1974 from lung cancer and pnuemonia.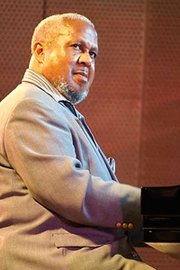 "It seems we've come full circle," said the 83-year-old Pickens. "Jazz Unites started out with the tribute to Duke Ellington. We fought hard to get that into Grant Park, but now we're doing the 40th. Jazz Unites is still thriving and that's beautiful."
Pickens was among the many black musicians, business and community leaders who joined jazz vocalist and arts producer, Geraldine de Haas, in her quest to hold a tribute to Ellington following his death in 1974. The tribute's success, which attracted both black and white jazz lovers, is how Jazz Unites got its name.
For five years, the tribute was held in Grant Park—making it Chicago's first music festival. Over the years, it has featured such performers as Joe Williams, Carmen McRae, Andy Bey, Ellis Marsalis, Chicago's Orbert Davis and Pickens.

Although Pickens has many awards, Jazz Unites is honoring him for being someone the organization could count on at every stage of its journey.
Pickens' career began as part of Eddie Harris' 1961 national hit record, Exodus, and he's since played with James Moody, Roy Eldridge, Max Roach, Clark Terry, Ira Sullivan, and was part of road tours with Elvin Jones for five years. Pickens made his home in Hyde Park, and was a Chicago Public Schools (CPS) teacher, and a mentor to scores of upcoming musicians.
"Sometimes you feel you're not worthy to be singled out for recognition so many times.  It's humbling to me.  I am so honored to be asked to be a part of this tribute," Pickens said.
The event is scheduled to take place at Millenium Park's Harris Theater, 205 E. Randolph Dr. with 3 p.m. refreshments and the Tribute Concert following at 4 p.m. featuring the Duke Ellington Orchestra and guest vocalist Greta Pope.
For ticket information, visit the website at www.jazzuniteschicago.org or call 312-948-9951.