Wendell Phillips' "Behind the Paws" Program Gives Students Unique Voice
Lee Edwards | 3/26/2014, 3:20 p.m.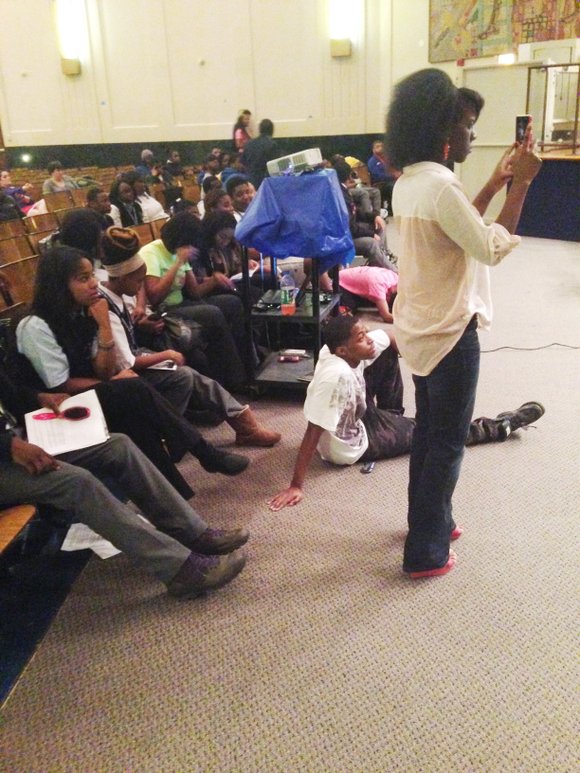 A spotlight is shining brightly on Wendell Phillip Academy High School (WPAHS) 244 E. Pershing, via its new television production class affectionately known as "Behind the Paws." The popular class provides students with a platform to learn the basics of television production and broadcasting and how to effectively use social media networks to influence the news and film industries.

Behind the Paws is an elective class at WPAHS which is located in Chicago's Bronzville neighborhood, that focuses on news unique to WPAHS. Videos are shot on Apple iPads and are edited with the Apple iMovie software . Students also create content and maintain social network sites such as Twitter, Instagram, and Pinterest. The equipment used for the Behind the Paws program is funded through a grant from the Department of Libraries and Information Services.
The class was created when WPAHS' Principal, Devon Horton, asked the school's Library Media Specialist and Director of Social Media, Kimberly Boyd, to create a new way to deliver the school's announcements to students-- that would be less disruptive than announcements over the intercom system.

Boyd has formerly worked with CBS and Comcast affiliate television stations and received her bachelor's degree in Television Production and Mass Communication. Brown has a degree in Journalism.

There are 15 students in the Behind the Paws class this year.

"Certain days we have to put together our show," said Myiah Levi, WPAHS junior. "We map it out from who is going to be anchors, who is going to do stand-ups, and everything and then we have days where we actually film the show which is hectic because we have a lot to do."
Behind the Paws is not only giving students video production and social media content creation experience but it's also allowing them to serve as role models for other students.
"All of [students at WPAHS] who have watched it are very impressed with it," said Levi. "They now look at us like we're the big brothers and sisters of those who use technology. We are leaders; we won the Spotlight on Technology Award."
"Behind the Paws has helped me work with students that I usually don't work with; get to know them on another, a more personal level, interact with them without having to be friends because I know when I do the job I won't like everyone," said Jordan Collins, a WPAHS junior who has been involved Behind the Paws for two years.
WPAHS is one of four Chicago Public Schools (CPS) to receive the 2013 Spotlight on Technology Award. Behind the Paws is funded via career and technical education grants including the ReVital Grant which was designated to the school library to improve technology integration.
Boyd was one of fiver recipients of Chicago Public Schools' ReVital Grant designated to the
"The wonderful thing is that we're supposed to a receiving a state-of-the-art television studio," said Boyd. "We're going to be able to expand this class and we're going to be able to offer it to sophomores and it will range from sophomores, juniors and seniors. It's going to start Fall 2015."

For more information about Behind the Paws visit http://phillips.cps.edu/behindthepaws.html. Wendell Phillips Academy High School is a Chicago Public School/Academy of Urban School Leadership School.