UNCF's "Empower Me Tour" Finishes Strong at Chicago State University
Lee Edwards | 3/26/2014, 3:31 p.m.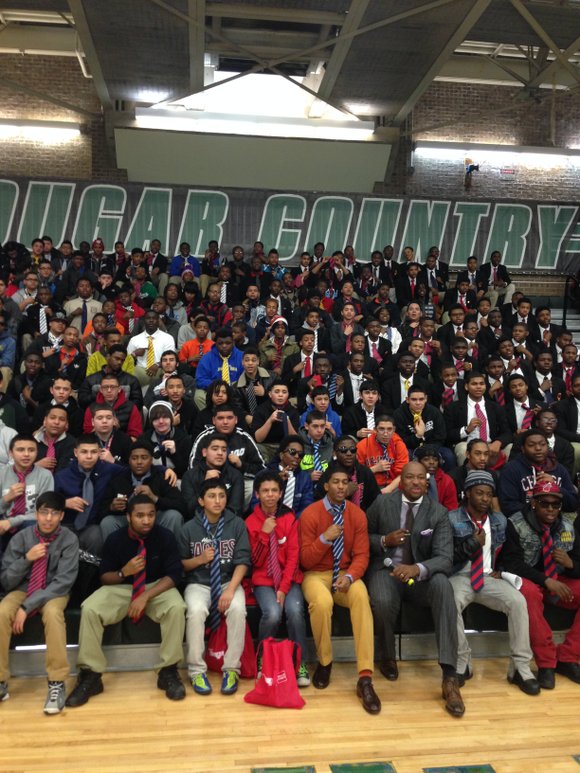 Last week, the United Negro College Fund, Inc. (UNCF) hosted the conclusion of its 6th annual Empower Me Tour (EMT) at Chicago State University's (CSU) Jones Convocation Center, 9501 S. Martin Luther King, Jr. Dr.
The UNCF Empower Me Tour was created to empower a movement among young people, motivating them toward academic excellence, personal and fiscal responsibility. The tour engages young people at crucial life stages – transition from middle school to high school, high school to college and college to career.
The tour offers programming for the following, underserved students grades 7-12, minority college students, parents and educators. It also offers age-appropriate workshops, panel discussions and other interactive activities focusing on six core areas:
College Readiness
Financial Education
Professional Development/
Career Readiness
Health & Wellness
Entrepreneurship
Service & Philanthropy
"This is a phenomenal partnership between Chicago State and UNCF; their mission and purpose align so closely to what we call our 5 e's and what those 5 e's are is that it is our mission to embrace, engage, educate, enlighten, and empower to make choices about their future," said Cheri Sidney, Associate Vice President of Enrollment Management at Chicago State University.

Coordinated out of the UNCF's national headquarters in Washington DC, the EMT toured in a total of seven U.S. cities before ending in Chicago. This is the third year that the EMT visited Chicago where last year's visit was held at the University of Illinois-Chicago (UIC).

"Chicago State presents a much better layout in terms of logistics and so far it's really working out; it seems to be so well done and so well organized in terms of flow of people [compared to] what we had last year," said Janis Robinson, Area Development Director for United Negro College Fund, Inc.'s Chicago office.

An estimated 1,200 high school students attended the EMT visit at CSU.
The Chicago Citizen Newspaper attended one of the workshop specifically directed towards young men entitled, "Tied to Greatness: Mastering the Power of Your Own Image and Manhood to Achieve Success," presented by Dr. Alex O. Ellis, Founder and CEO of Tied to Greatness, Inc.
Dr. Ellis explained how something as simple as tying a neck tie and wearing it properly can open doors of opportunity. During his workshop, Dr. Ellis asked older male audience members to show the younger men in the audience how to tie a neck tie.

Five hundred ties were given away to participants during the program.

The Empower Me Tour's presenting sponsor is Wells Fargo .
For more information visit http://www.empowermetour.org/index.html.