President Obama's "My Brother's Keeper" Remarks
3/5/2014, 4:50 p.m.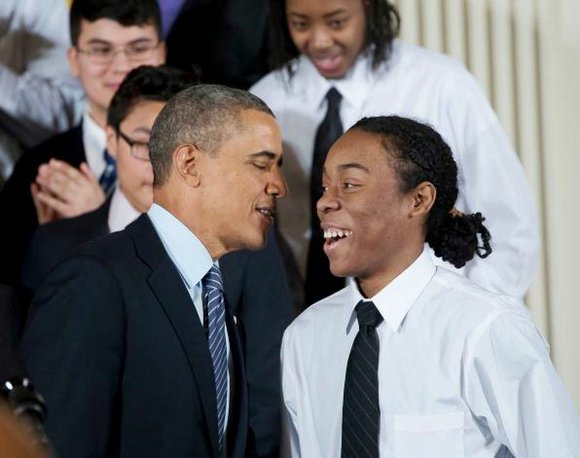 Introduced by Christian Champagne, 18, a senior at Hyde Park Career Academy, Chicago, President Barack Obama, last week delivered a speech unveiling his "My Brother's Keeper" initiative at the White House, surrounded by African American and Latino young men, some of which are participants in the University of Chicago Crime Lab initiative called "Becoming a Man" (BAM), a program for at-risk youth, that served as the inspiration for Obama's newly introduced program.
Excerpts from the president's 'My Brother's Keeper" speech:
THE PRESIDENT: Thank you, Christian, for that outstanding introduction. Like your parents and your teachers, I could not be prouder of you. I could not be prouder of the other young men who are here today.

I first met Christian about a year ago. I visited the Hyde Park Academy in Chicago, which is only about a mile from my house. Christian was part of this program called "Becoming a Man." It's a program that Mayor Rahm Emanuel introduced to me. And it helps young men who show a lot of potential but may have gotten in some trouble to stay on the right path.
They get help with schoolwork, but they also learn life skills like how to be a responsible citizen, and how to deal with life's challenges, and how to manage frustrations in a constructive way, and how to set goals for themselves. And it works. One study found that, among young men who participate in the BAM program, arrests for violent crimes dropped 44 percent, and they were more likely to graduate from high school.
This is an issue of national importance -- it's as important as any issue that I work on. It's an issue that goes to the very heart of why I ran for President -- because if America stands for anything, it stands for the idea of opportunity for everybody; the notion that no matter who you are, or where you came from, or the circumstances into which you are born, if you work hard, if you take responsibility, then you can make it in this country, that's the core idea.

That's why in the aftermath of the Trayvon Martin verdict, with all the emotions and controversy that it sparked, I spoke about the need to bolster and reinforce our young men and give them the sense that their country cares about them and values them and is willing to invest in them. And I'm grateful that Trayvon's parents, Sybrina and Tracy, are here with us today, along with Jordan Davis's parents, Lucy and Ron.
After months of conversation with a wide range of people, we've pulled together private philanthropies and businesses, mayors, state and local leaders, faith leaders, nonprofits, all who are committed to creating more pathways to success. And we're committed to building on what works. And we call it "My Brother's Keeper."
Now, just to be clear -- "My Brother's Keeper" is not some big, new government program. "My Brother's Keeper" is a more focused effort on boys and young men of color who are having a particularly tough time.

I'm pleased to announce that some of the most forward-looking foundations in America are looking to invest at least $200 million over the next five years -- on top of the $150 million that they've already invested -- to test which strategies are working for our kids and expand them in cities across the country.

"My Brother's Keeper" is all about -- helping more of our young people stay on track; providing the support they need to think more broadly about their future; building on what works, when it works, in those critical life-changing moments.

To see the entire speech, please go to the White House website at www.whitehouse.gov.