Chicago's Newest Pete's Fresh Market Opens on West Side
Lessie Cokley walked slowly as she made her way from the busy parking lot of the newly opened Pete's Fresh Market grocery store at Madison Street and Western Avenue last Thursday morning amongst a constant stream of early arrivals to the store.
"My arthritis is acting up but I wanted to come to this new grocery store because it offers fresh vegetables and fruit," said Cokley who turned 65 on Thursday. "The other store I used to go to is small and doesn't offer fresh produce. I live in walking distance so I'm glad the store is here.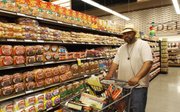 The new store is conveniently located for many West Side residents with a wide variety of food offerings, according to Pete's Fresh Market patrons who spoke with The Chicago Citizen Newspaper on Thursday, a day after the store's grand opening attended by Mayor Rahm Emanuel and 27th Ward Ald. Walter Burnett, Jr.
"Before today, the Near West Side lacked convenient access to fresh, healthy food options," said Mayor Emanuel. "Not only is this Pete's Fresh Market within easy reach of thousands of Chicago residents, but it is helping to grow employment in an area that needed new, steady jobs and will be an anchor for the continued economic revitalization of the neighborhood." 
Built on a 3.5-acre City-owned site that was sold to JD Real Estate Inc. for $1 million, according to the mayor's office, construction started in May 2013 on the $18.4 million retail development that is anchored by the 68,000 square foot grocery store and includes more than 11,000 square feet of additional retail space with 30 part time jobs associated.
"Pete's Fresh Market is pleased to announce its 10th store opening," said owner James Dremonas. "We are celebrating bringing food to an area that has long been without options and are excited to be the anchor in this community.  We appreciate the warm welcome from the neighborhood and look forward to making long lasting relationships with the community members."
The new store, part of a new retail complex on the southeast corner of Madison Street and Western Avenue is expected to bring, in addition to more food options, 160 full-time jobs to the neighborhood along with 100 construction jobs.
Several African American cashiers were already at work including grocery bagger, Amanda Willingham and cashier, Amanda Franklin.
Just as those already employed with the grocery store were busy at work, Darius Simmons waited patiently for his job interview.
"I've already filled out an online application so I'm now just waiting to speak with Alita Bezanis," (Director of Organizational Structure for Pete's Fresh Market), said Simmons, who was dressed for success in a dark suit and tie.
"Both the Near West community that advocated for Pete's Fresh Market and I are very excited to welcome the store to the 27th Ward," said Alderman Burnett, Jr. 
Bezanis said the overall response from store patrons has been "overwhelmingly positive."
"Countless people have stopped and thanked the staff and the store managers for bringing the variety of food offerings and for investing in the neighborhood," Bezanis told the Chicago Citizen Newspaper.
Tem Hunter lives down the street from the grocery store and was also shopping on Thursday.
"This is a blessing because before the store opened here, this was a food desert. Now I can walk to the grocery store; before I had to take public transportation to get to one."
A family-owned and operated business with over 40 years' experience and now 10 locations, throughout the Chicago area, some of you may remember Pete's early start in the 1970s as a small, full-service produce stand on Chicago's south side.
With produce still the heart and soul of the business… fruit and vegetables hand-picked and delivered daily, Pete's is expanding beyond fresh produce and each store now have a full service kitchen, bakery, deli and in-house butchers.