Ombudsman Chicago Hosts First Ever Graduation Ceremony
Lee Edwards | 6/18/2014, 3:53 p.m.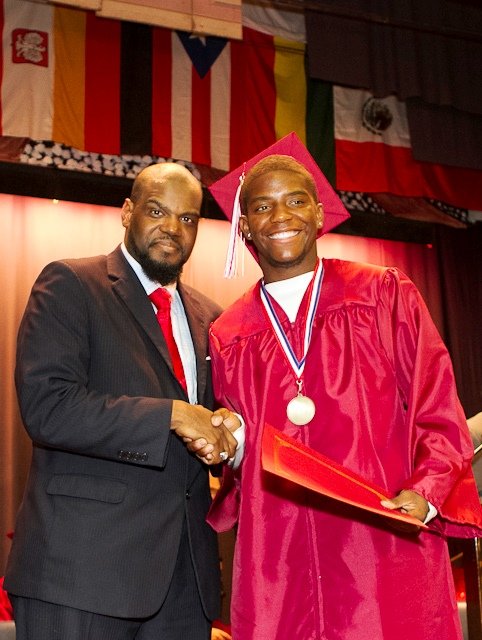 Recently, Ombudsman Chicago, 2401 W. Congress Pkwy, celebrated its first ever graduation ceremony at Holy Trinity High School, 1433 West Division St. Ombudsman Chicago is a dropout recovery school that offers an alternative option for students seeking a Chicago Public Schools (CPS) accredited diploma.

Ombudsman Chicago is a branch of the Ombudsman Educationall Services, a division of Educational Services of America (ESA), which is a national leader in providing behavioral therapy and alternative and special education programs for children and young adults. Currently, there are two Ombudsman Chicago locations; the other program is located at 7500 North Harlem Ave.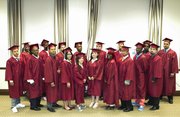 "I believe that these students that have graduated from Ombudsman will impact the world and, perhaps, have had the effort on the inside of them from the get go," said Ombudsman Chicago principal Dr. Chaun Johnson. "The impact of this is great on what they will do in the future meaning we have some [graduates] that are going to City Colleges of Chicago, some that have picked up trades, those who are going to the universities. We are very proud of our students; the impact was already in them and now they get a chance to impact the world. We want our students to be celebrated and affirmed for their accomplishments."
"During our graduation, one of our themes was that the students give back, meaning, we expect our students to come back and to speak to our students to let them know what the process is," Johnson continued. "We want our students to come back to serve the community by helping others understand that I've been where you've been and I've been through what you've been through so let me help show you the way."
Ombudsman Chicago accepts students ages 14-21 and categorizes them by identifying if they are older and close to graduation - only needing a few credits - or if they're younger and require several credits to graduate. To date, Ombudsman Chicago has graduated 41 students since its opening last year. Ombudsman Chicago graduates students in the spring, summer, and winter; although, their instructional period is year round.

"Seeing these students graduate was just an odd moment for me because I've seen such an improvement in my students in not just in terms of academic success but also in terms of their social skills," said Thelma Jerome, an Ombudsman homeroom and history teacher. "Just to see what type of improvements they've made attending my classroom and my teacher lead instructions I've seen such an improvement in their skills both academically and socially."
When asked by the Chicago Citizen Newspaper about whether or not success stories like Ombudsman Educational Services validates the need for alternative schools, Chicago Public Schools spokeswoman, Jessica Perez replied, "Our analysis has shown that we have more than 50,000 students who are out of school at any point in time. After several years of ambitious growth, CPS will have approximately 11,000 seats in SY15 to meet this need. The fact that providers like Ombudsman are achieving full enrollment in their schools underscores the need to better serve this population of students."
Nafis Maddox, who graduated near the top of his class and delivered the commence speech at Ombudsman Chicago's graduation said that attending Ombudsman was "easier" for him compared to traditional school. Maddox attended Ombudsman for slightly over three months and plans to attend a junior college before moving on to a four year education institution. He said that he would suggest Ombudsman to others, too.

On delivering the commence speech, Maddox said, "To give the [commencement] speech was exciting; I was anticipating giving that speech for a couple of weeks."
For more information visit http://www.ombudsman.com/.