Gift of Hope African American Task Force to Honor Parents of Jermaine Cullum Jr.
6/18/2014, 12:38 p.m.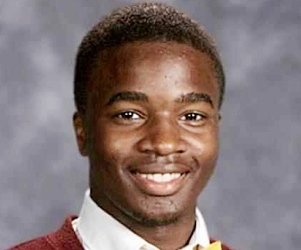 Tarcia Patton watched her 16-year-old son, Jermaine Cullum Jr., languish on life support for a week before she made a decision in a way only a mother can: She consented to donate his organs because "That was something he wanted to do."
Jermaine and his mom previously talked about his choice to sign an organ donor card, something the Christ the King Jesuit College Prep High School sophomore didn't get around to doing before he collapsed in May, while playing in a basketball tournament at Riverside Brookfield High School.
"He saw that I'm a healthy person, no smoking, no drinking, no nothing like that and the fact that if I can do something to help anyone, I will," Patton said of her son's wish to follow in his mother's footsteps. "I didn't really get to process it. I knew it was something he wanted to do because I'm an organ donor."
Patton, with Jermaine's father, Jermaine Cullum Sr., will be honored for their sacrifice during a Gift of Hope Organ & Tissue Donor Network [www.giftofhope.org] 11am open house and noon press conference, Wednesday, June 25 at its new offices located at 2600 S. Michigan Ave. Sitting at the gateway to Bronzeville, the office will house Gift of Hope's African American Task Force, as it reaffirms its efforts to encourage African-Americans to sign donor cards.
In fact, the demand for viable life-saving organs and life-enhancing tissue is critical among African-Americans nationally, according to Jack Lynch, Community Affairs Director for Gift of Hope. A third of those on waiting lists are African-American, yet accounting for only 14 percent of donors.
The good news in Chicago is organ donation drives and public awareness created by Gift of Hope's Community Affairs Department, over its 27 years of existence, has encouraged increasing numbers of African American Chicago-area residents to overcome initial reservations and agree to join donor ranks, Lynch says. In fact, Chicago is a training model in the organ procurement community when it comes to changing minds and impacting outcomes, Lynch says. The AATF hopes to further the discussion of healthy outcomes over the summer, as families gather for family reunions and picnics and talk about what it takes to be safe, healthy and whole -- just as Jermaine and his mom did.
For Patton, the decision to donate was a much simpler story than the one told by national trends and data points: "I just made sure Jermaine's wishes were fulfilled," says Patton, now raising two of Jermaine's siblings and finding peace in her decision as she mourns the loss of her son.
The Gift of Hope Organ & Tissue Donor Network is a federally designated not-for-profit organ procurement organization (OPO) that coordinates organ and tissue donation and services to families of donors in the northern three-quarters of Illinois and northwest Indiana. Since its inception in 1986, The Gift of Hope has coordinated donations that have saved the lives of more than 14,000 organ transplant recipients, and improved the lives of hundreds of thousands of tissue transplant recipients. As one of 58 organ procurement organizations that make up the nation's organ donation system, The Gift of Hope works with 183 hospitals.